MICA-CDMC joins hands with Data Leads to promote Media Literacy among youth & Gen Zs
Supported by Google News Initiative the new entity is titled 'Factshala's Zonal Hub' 
Six universities and colleges from five zones across the country will lead this programme in their own regions. MICA Ahmedabad, Jagran Lakecity University Bhopal and Indian Institute of Journalism & New Media (IIJNM) Bangalore are the first three centres to come on board for this unique initiative
BILKULONLINE
Ahmedabad, July 21: In a major collaboration aimed at eliminating misinformation around us and promoting media literacy among youth and Gen Zs, MICA, Ahmedabad has joined hands with DataLEADS to establish a 'FactShala' zonal hub on its campus. As part of the partnership, the Center for Development Management and Communication (CDMC) at MICA will act as one of the first three zonal hubs of FactShala, India's largest news and information literacy programme.
The pan-India initiative, led by DataLEADS, a digital media and information initiative supported by Google News Initiative, aims to empower individuals and communities to build resilience against misinformation.
As part of the Memorandum of Understanding (MoU), experts at CDMC will lead media literacy initiatives in the Western region and build a student media literacy network. Students from different colleges in Gujarat will conduct hackathons and debunkathons in combating misinformation and deep fakes through newsletters, podcasts, and radio shows across the next six months. The program will be facilitated by actively engaging with a team of MICA students and will run for 6 months from August 2023 to January 2024.
Dr. Shailendra Raj Mehta, President & Director, MICA, said, "We are in an era of endemic misinformation and outright disinformation. The authenticity of information has become a longstanding issue affecting businesses and society. We are very proud of this partnership and believe that MICA's expertise in building innovative approaches and interventions will contribute to a greater cause."
Under the zonal hub programme, these educational institutions will engage with 500+ colleges in their regions to build capacity in the media literacy space.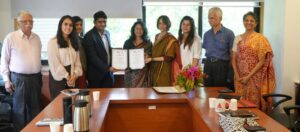 Dr Githa Heggde, Dean, MICA, said, "The growing significance of Media Literacy and the imperative to cultivate media ethics in future leaders have become increasingly apparent in recent years. The rapid expansion of internet and social media access has proven to be both a blessing and a curse. MICA's faculty members and Alumni have been actively engaged in the media sector, and the institution has always strongly emphasised imparting media literacy and ethics to its students. This collaboration marks a significant milestone in this endeavour. We foresee a much-needed positive impact through this initiative in the media sector."
FactShala Zonal Hubs will provide a platform for educational institutions to lead media literacy initiatives within their respective regions, fostering a culture of critical thinking and information literacy. The programme aims to harness India's demographic dividend by channelling the energy of university students to prepare different regions of the country for a robust information ecosystem.
Prof. Manisha Pathak-Shelat, Co-Chair, CDMC, MICA, said, "We are excited to partner with DataLEADS on the FactShala project because Media and information literacy contributes significantly to the quality of personal as well as public life. We appreciate the opportunity this partnership offers to institutionalise the media literacy program. FactShala's vision of creating a community of informed consumers and critical thinkers within university campuses aligns perfectly with MICA's vision."
DataLEADS founder and CEO Syed Nazakat said, "Recognizing the crucial role of youth in shaping India's future, there is a pressing need to enhance their information literacy skills. The FactShala Zonal Hub represents a pioneering effort to institutionalise media literacy activities in collaboration with participating educational institutes".