Yatharth Hospital & Trauma Care Services Limited's IPO opens on July 26
BILKULONLINE
Ahmedabad, July 24: Incorporated in 2008, Yatharth Hospital and Trauma Care Services Limited is a multi-care hospital chain which is set to launch an initial public offer (IPO) on Wednesday, July 26.
The Yatharth Hospital & Trauma Care IPO includes fresh issuance of shares worth up to Rs 490 crore.
The super speciality hospital has fixed a price band of Rs 285-300 per share for the IPO. The bidding for anchor investors will open on July 25, and the public issue will conclude on July 28. The IPO comprises fresh issuance of equity shares aggregating up to Rs 490 crore, and an offer for sale (OFS) of up to 65.5 lakh equity shares by promoters Vimla Tyagi, Prem Narayan Tyagi and Neena Tyagi.
These hospitals are situated in Delhi NCR, namely in Noida, Greater Noida, and Noida Extension, Uttar Pradesh. It has 450 beds and is one of the largest hospitals in the area.
Yatharth Tyagi, whole time Director of the Yatharth Hospital said "All of our hospitals are accredited by the NABH and the ones located at Greater Noida and Noida Extension is accredited by NABL. The hospitals comply with all necessary international quality standards to ensure safety and recovery of the patients".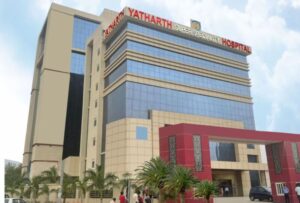 A team of 370 doctors is engaged with the company. They offer healthcare services across numerous specialties and super specialties.
"The super specialty or Centres of Excellence (COE) of the hospital includes "Centre of Medicine, Centre of General Surgery, Centre of Gastroenterology, Centre of Cardiology, Centre of Nephrology & Urology, Centre of Pulmonology, Centre of Neurosciences, Centre of Paediatrics, Centre of Gynaecology, Centre of Orthopaedics and Spine & Rheumatology" explained Amit Singh the Group CEO.
Deepak Kumar Tyagi, President Strategy & Finance and others were present in Ahmedabad on Monday and provided the details of the Group's IPO.Yatharth Hospital IPO is aimed at raising ₹687 crores via IPO. Yatharth Hospital is the eighth and 10th largest private hospital in the National Capital Region of Delhi respectively, in terms of the number of beds in Fiscal 2023. The company reported revenue of ₹523 crores in 2023 against revenues of ₹403 crores in 2022. The IPO price band is fixed at ₹285 to ₹300 Per Equity Share. The Yatharth Hospital IPO is to list on BSE and NSE.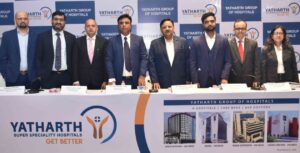 The public issue is expected to fetch Rs 677-687 crore for the company. Earlier this month, Yatharth Hospital raised Rs 120 crore from institutional investors in a pre-IPO round. This led to a reduction in the fresh issue size to Rs 490 crore, from Rs 610 crore planned earlier.
The Yatharth Hospital stock is likely to be listed in the secondary market on August 7. The stock will be traded on bourses BSE and NSE. The basis of the allotment of shares is likely to be finalised on August 2, and the credit of shares in demat accounts of successful bidders on August 4. Other participants will have refunds initiated on August 3.
Yatharth Hospital IPO Fund ultilisation:
Yatharth Hospital intends to utilise the net proceeds for repayment of the debt, funding capital expenditure expenses like purchase of equipment and surgical robots for its oncology and orthopedic treatment. Group is keen to spread its wing in entire North India, including few cities of Uttar Pradesh, Haryana and so on.
Given the company's market position and growing medical tourism in the Delhi NCR region, it has great proximity to several important railway stations and the upcoming international airport.
The company is equipped with high-end machines and devices that assist its practitioners in providing timely, efficient and quality healthcare. The advanced infrastructure, technology and equipment have improved their operational efficiency and enhanced overseas patients' experience. Teeth treatment, knee replacement and cosmetic surgeries which are too costly in developed countries find Yatharth Hospital of India a better alternative choice.
The company offers a variety of engagement models, including a fixed salary, minimum guarantee, and service fee models. These structures compensate the doctors for an increase in revenue, ensuring that they are motivated to retain their current patients and draw in new ones.
The company is led by a highly qualified and experienced management team who ensure that the company is led by the right mix of professionals from various fields.