Fostering green entrepreneurship 'Greenpreneur – 2023' aims at helping promote Sustainable Practices
Greenpreneur 2023 – a platform of remarkable hybrid learning, recognition and networking experience and aim towards shaping a greener future
BILKULONLINE
Ahmedabad, July 29: Ahmedabad among several firsts also takes pride in  We are thrilled to announce the Greenpreneur 2023 event, organized by 1Million Entrepreneurs International Forum in association with VyapaarJagat.com and presented by Yudiz Solutions Limited, powered by Boho Homes & PeersBoard.com.
The event was held on 29th July 2023 from 1 PM to 5 PM at AMA – Ahmedabad Management Association, Gujarat, amidst the most anticipated gatherings dedicated to promoting sustainable practices and shaping a greener future.
Greenpreneur 2023's core mission is to foster green entrepreneurship and collaboratively build a sustainable future. The event is open to individuals, professionals, startups, MSME leaders, CXOs, corporate entities, NGOs, sustainability leaders, and all those passionate about the environment. The Public Relations Council of India, a national body, is supporting the initiative by reaching out to organizations across the country through its network of around 55 chapters.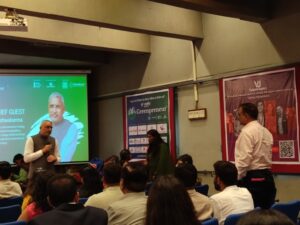 The distinguished guests included Jagdish Vishwakarma, Minister of State for MSME, Government of Gujarat, Jagadish Makwana, Deputy Whip – Government of Gujarat,  Bharat Patel, Director – Yudiz Solutions Ltd, IPS Anil Pratham, Director General of Police at Indian Police Service, Pabiben Rabari, Founder of Pabiben.com, Shraddha Musale, Indian Model and actress & Founder, FutureTayari
The event's agenda included keynote speakers, business showcases by Greenpreneurs, felicitation of sustainable designers and SDGs changemakers, success stories by inspiring Greenpreneurs, and felicitation of Greenpreneur Award winners, sponsors, partners, and exhibitors. The day  concluded with open networking over Hi Tea.
Greenpreneur 2023 also featured the prestigious Greenpreneur Awards & Recognition, honoring entrepreneurs working in various domains such as Renewable Energy, Sustainable Agriculture, Waste Management, Eco-friendly Products, Clean Technology, Sustainable Construction, Conservation and Restoration, Circular Economy, Green Consulting and Services, Social Enterprises, and more.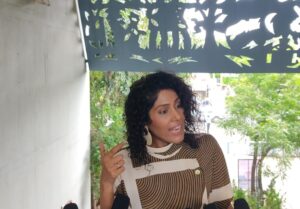 Sponsors & Partners of the event include title sponsor Yudiz Solutions Limited and powered by sponsor Boho Homes & PeersBoard.com. We also acknowledge the valuable contributions of our national communication partner PRCI, education partner FocusOnline.in, school ERP partner CampusDean, finance partner BigBull Dealt India Pvt Ltd, business automation partner Sublimis Technologies Pvt Ltd, ecosystem partner ICIB, MSME & StartUps Forum, technology partner Swagger Unit, zero waste event partner Concepts.Green, skill development partner FutureTayari, co-working space partner DevX, PR partner SMS PR, photography & videography partner Raaval Photo, and supporting partner Rotary club of Sarvam. The event is managed by Munifik Events and anchored and hosted by Emcee Vaibhavi Shah.
Organizers of the event are;  1Million Entrepreneurs International Forum is a non-governmental and not-for-profit organization dedicated to empowering entrepreneurs worldwide. We provide valuable resources, opportunities, and recognition through impactful events, talk shows, and initiatives.
VyapaarJagat.com is a dynamic online platform empowering entrepreneurs and business enthusiasts with valuable resources, insights, and connections to thrive in the ever-evolving business landscape.