Ahmedabad Chapter of WIRC of ICSI completes its 50 glorious years
The Institute of Company Secretaries of India announces it's current & futuristic Initiatives
Two important MoUs were signed between the ICSI  and the GIFT City & GNLU
BILKULONLINE
By Rafat Quadri
Ahmedabad, Aug 6:  Ahmedabad Chapter of WIRC of ICSI completes 50 years. To celebrate the same and unfold the future plans of the ICSI top office bearers of the esteemed organisation of  company secretaries met the media persons and shared their experiences and plans.
On this occasion CS Manish Gupta, President, of ICSI announced that "two important associations in the form of signing up of MoUs have been shaped even as we mark the completion of 50 years of our Ahmedabad chapter."
CS Manish Gupta is a registered Insolvency Professional with the Insolvency & Bankruptcy Board of India and is empaneled as an Arbitrator with both BSE and NSE.
Hence, a Memorandum of Understanding (MoU) was signed between The Institute of Company Secretaries of India and Gujarat International Finance Tec-City (GIFT), Gandhinagar. From ICSI side, the signatory of the MoU was CS Manish Gupta, President whereas from GIFT side, the signatory was Tapan Ray, MD & Group CEO.

In the other case, , a Memorandum of Understanding (MoU) was signed between The Institute of Company Secretaries of India and Gujarat National Law University (GNLU) Gandhinagar. From ICSI side, the signatory of the MoU was CS Manish Gupta, President whereas from GNLU side, the signatory was Dr. Jagadeesh Chandra T. G., Registrar (I/C).
"The MoUs will make mutual endeavors to collaborate and mutually work in good faith to meet areas of cooperation" observed CS Gupta.
In all probabilities ICSI will have a presence at Gift city campus and there are also plans of moving its Ahmedabad office at a new location. 
To mark the completion of its 50 years of establishment, ICSI office bearers organised event comprising of technical and motivational sessions followed by a cultural evening. Special Invitees like CS Manish Gupta, President of ICSI, CS B. Narasimhan, Vice President of ICSI,  Ajay Patel, President of Gujarat Chamber of Commerce & Industry, Amitbhai Thakar, M.L.A. from Vejalpur Vidhansabha Constituency remained present and graced the events.
CS Gupta briefed the media about all the important projects and programmes that were initiated or completed by the ICSI during the year. He elaborated the efforts saying "The Institute introduced the ICSI Academic Connect to collaborate with various IIMs, National Law University, and Institutions of national repute to impart knowledge and acuminate skills of students, academicians, and professionals. Toppers of specific programmes of these Universities/Institutes will be awarded ICSI Signature Award Gold Medal and a scholarship to pursue the Company Secretary Course. The MoU would facilitate a comprehensive partnership in the areas of joint academic research, joint workshops, professional development & faculty development programmes along with sharing of resources and participation in conferences, workshops, and seminars".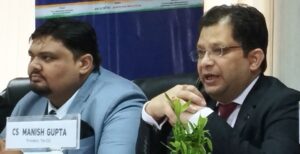 Explaining the changes made in the revised curriculum of students, CS Gupta said "We revised our curriculum as per the new education policy and dropped three subjects making it 14 from 17 for our students. Also, the New Syllabus 2022 focuses on the core areas of the Company Secretary Profession and supplements it by laying emphasis on ancillary, legal, managerial, and other technical skills. This has brought fresh wave of bright job and practice opportunities for or students whose demand is rising with every passing year across India".
The Institute has completely transformed its remote learning landscape into real-time by conducting a series of focused webinars, rolling out various online Self-Assessment Modules, Crash Courses, and Certificate Courses, and providing Free Video Lectures, to upskill its members and students, since the year 2020.
Western India Regional Council Chairperson of the ICSI CS Amrita DC Nautiyal proudly said that "the students and members of the ICSI are doing great job both at the corporates and practicing independently. She said the girl students were at par with the boys both as students and as the professionals. She said ICSI was ready to serve not only the rising demand of company secretaries at the national level but also the world over".
CS Amrita added that "In order to be a global leader in promoting good Corporate Governance and its Mission to develop high caliber professionals facilitating good Corporate Governance the ICSI has set forth its foot in the international arena by setting up ICSI Overseas Centres in UAE, USA, UK, Singapore, Australia, and Canada. The Centres would augment professional opportunities for ICSI members and facilitate practical training for students, besides assisting ICSI in conducting its examinations in these countries. 
The Institute has created ICSI Students Education Fund Trust to encourage and motivate academically bright but economically backward students to pursue CS Course thus contributing to the objectives of nation-building and social responsibility. 
The Institute of Company Secretaries of India (ICSI) is a premier professional body set up under an Act of Parliament, i.e., the Company Secretaries Act, 1980, for the regulation and development of the profession of Company Secretaries in India. It functions under the jurisdiction of the Ministry of Corporate Affairs, Government of India. The Institute, being a pro-active body, focuses on the best and top-quality education to students of the Company Secretaries Course and the best quality set standards for CS members. The Institute has over 71,000 members and around 2 lakh students on its roll. The University Grants Commission, India, has recognized the Company Secretary Qualification as equivalent to Post Graduate Degree.
CS Manish Gupta (President ICSI), CS Amrita DC Nautiyal CS Pawan Chandak, CS B. Narsimhan, CS Rajesh Tarpara and CS Ajay Vasavada (Chairman Ahmedabad chapter of ICSI) graced the occasion with their presence.
(Rafat Quadri can be contacted at editorbilkul@gmail.com)