Ahmedabad to witness the flavors of Friendship, Independence and Rakshabandhan
33rd edition of The Grand Rakhi Mela – 11th Blood Donation drive by Samyak Women's Club, Darshu Care Charitable Trust and Navjeevan Charitable Trust to be organsied on Aug 12 & 13 at Paldi
BILKULONLINE
Ahmedabad, Aug 10:  With a noble idea of extending a helping hand and providing a robust platform to the women entrepreneurs a two day Exhibition cum Blood Donation drive is scheduled  organized on 12th and 13th August. The gala gathering will take place at  Shrimali Brahmin Suvarna Jayanti Hall, Near Unnati School, Mahalaxmi Char Rasta, Paldi  from morning 10am onwards till 8pm in the evening.
As many as 50 women entrepreneurs  affiliated to the  Samyak Women's Club would be displaying a wide spectrum of  products ranging from Clothing, Jewelry, Home Products, Food Items to other women accessories including Bags, Artefacts and more.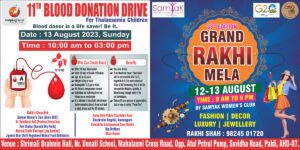 Rakhi Shah is the founder of Samyak Women's Club. She explains the idea "Our group is active since year 2007 and since then every year we have been organizing 2-3 exhibitions in a year so that our women entrepreneurs can showcase their unique products and gain marketing knowledge on how to grow ahead. We also organize talent shows so that they can come forward in life with a purpose. I am also happy that we even have stalls from the Specially abled Children of Darshu Care Charitable trust and they would tie Friendship bands and Rakhis to visitors and guests and appeal for making the place a better place to live. It would be a pride to see our message matches up with the flavour of forthcoming 76th Independence Day Celebrations, we would distribute our Tricolour amongst visitors as well".
Interestingly, the most eye catching appeal of the Mela would be a collaboration with Prathma Blood Centre wherein the 11th Blood Donation Camp organized right at the Grand Rakhi Mela aims to collect 150-200 bottles of blood which would be donated by passionate and eager blood donors. 
So get ready to enjoy the range of Home Decorations, Herbal Products, Chocolates, Bed Sheets, Jewellery, Room Fresheners, Western Outfits and many more at the 2 day The GRAND Rakhi Mela on 12th and 13th August.