PDEU organises a two day international Conference on Restructuring, Reforming and Revamping the Independent India
Former President of India, Shri Ram Nath Kovind, was the Chief Guest at the inaugural function
BILKULONLINE
Ahmedabad, Aug 16: The two-day International Conference on "Restructuring, Reforming, and Revamping the Independent India: Reforms in Agriculture, Administrative, Economic and Entrepreneurial Sectors" began at Pandit Deendayal Energy University on its campus in Gandhinagar on Wednesday . The conference is being organized by the School of Liberal Studies with the support of Indian Council of Social Sciences Research, Association of Development Communication, and a few other organisations.
The former President of India, Shri Ram Nath Kovind, was the Chief Guest at the inaugural function of the conference. Prof RaJade M. Berry-James, the President-Elect, NASPAA, USA; Dr. Hasmukh Adhia, IAS (Retd.) and Chairman Standing Committee, PDEU; Prof. S. Sundar Manoharan, Director General, PDEU, and Col. (Dr.) Rakesh Shrivastawa, Registrar, PDEU, were the guests of honour.
The two-day international conference is being organized from August 16 under "Azadi ka Amrut Mahotsav" in the year when India also holds the presidentship of G-20 nations. Scholars from India and abroad will deliberate on policy gaps, procedures, and priorities to address issues in the agriculture, economic, governance, and entrepreneurial sectors. The conference is open to academia and practitioners who are expected to bring ideas to assess the gap in the policy cycle to serve the people better.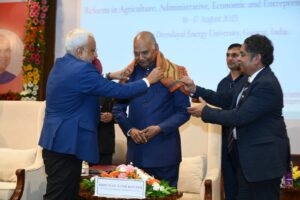 With evolving needs of citizens, governments of the day make policies to serve citizens better and with more vigor. The governments, especially in the last 10 years, have initiated several flagship programmes designed to meet people's aspirations. The flagship policies like Make in India, Skill India, PM Kisan Samman Nidhi, Swachh Bharat Abhiyan, Beti Bachao Beti Padhao, NEP-2020, GST, etc, of the present government further the philosophy of maximum governance and minimum government.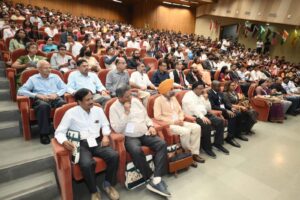 It was observed that India's entrepreneurial spirit which has revitalized to produce a new, self-sufficient, progressive, and innovative nation. The conference will highlight the policies aimed at reinventing India by providing a platform for young entrepreneurs to realise chase their dreams and promote self-reliance and decrease global dependence.
Agriculture is the backbone of India's economy. It is a reliable source of income to a major portion of our population. Post agricultural revolution, the government has redirected its attention to the development of the farmers through various schemes and mechanisms. The conference looks into policies reforms and initiatives like making seeds available at nominal rates, providing the farmers with water and harvesting tools, and offering them insurance.
Governance and Administrative Reforms
The focal point of this conference is administrative reforms which are crucial for development of any country. Many innovative e-governance initiatives and capacity building steps have been taken to revamp the restructure and process to make governance citizen–centric and efficient. For example, in India, Mission Karmayogi and Sevottam have reflected the vision and mission of the government's efforts towards citizen-centric governance.
Economic Reforms and Raising the bar of the Economy
Development of an economy remains a little suspect if the numbers do not add up. From taxes (GST) to Jan Dhan, from demonetization to digitization, all initiatives have boosted the growth of our economy multi-fold. This conference would scrutinize such economic reforms. 
Societal Reforms
A progressive economy is where the citizens enjoy basic services such as access to clean drinking water, 24/7 energy supply, smart education, affordable housing and adequate food and nutrients. This conference underlines the priorities of the government to improve the well-being of the people. Further, it glances into the affirmative steps taken by our caretakers to provide us with affordable healthcare, affordable education, and other basic necessities.
Energy and Infrastructure
Every transitioning economy undergoes through modernization which aims at improving energy efficiency infrastructure and labour productivity. India is currently encountering modernization in three aspects: agricultural, industry and technology. These will lead to more energy consumption. India has pledged to generate 50% of its electricity needs from non-fossil-based energy sources by 2030 and to be net zero by 2070. This conference will look into the India's changing energy infrastructure and energy transition policies which has had an impact on human welfare and access to energy.
Sustainable Development Goals (SDG's) – Policies into Action
In 2015, the United Nations adopted Sustainable Development Goals (SDGs) as a worldwide call to action to eradicate poverty, protect the environment, and ensure that everyone experiences peace and prosperity by 2030. This conference would like to recognize the efforts put forth by the governments to achieve SDG goals and evaluate on the polices which are transmitted into action at the grass roots.
National Education Policy: An Avenue to Set a Blueprint for the country's Future
Education is a fundamental right. Human capital is a vital requirement for economic development and building robust institutions. It has been demonstrated that the quality of education in terms of measurable abilities has a significant effect on earnings and health at the individual level, as well as on economic growth and employment rates at the macro level. This conference would explore the role of National Education Policy (NEP)-2020, among other perspectives, in setting up the blue-print for future generations.
Day 2 of the two -day international Conference on 17th August will witness a Panel Discussion on National Education Policy:
Implications on Higher Education Institutions. Prof. Pradeep Mallik (HoD, Media and Communication, PDEU) will be the session moderator.
Prof. Nirmala Dorasamy. Professor, Faculty of Public Management, DUT, South Africa and Prof. Richeleen Dashield
Director, Office of Equity and Inclusion, NYU, USA Prof. Gift Mugano, Director at Africa Economic Development
Strategies, NMU, Zimbabwe. Prof. A. Venkatraman, Faculty of Public Admin. VNSGU, India, Prof. Marzina Begum
Professor of Public Admin. Rajshahi, University, Bangladesh, Dr. M. Venkat Ram Reddy, Faculty of Public Policy and
Administration, PDEU Convener, International Conference.
International Conference on its second day at the PDEU will find Prof. Ajmer Singh Malik, Vice Chancellor, CDLU, Haryana as the Chief Guest. While, Prof. Manoj Dixit, Vice Chancellor Maharaja Ganga Singh University, Rajasthan will be the Guest of Honor. Prof. S. Shanthakumar Director, GNLU, Gujarat Special Guest Cryshanna Jackson Leftwich Professor, Politics and Int. Relations Youngstown State University, USA Dr. Bhawani Singh Desai Dean R&D, PDEU Prof. Nigam Dave Director SLS, PDEU Dr Ritu Sharma Dean, SLS, PDEU Dr. Sriram Divi Faculty of Public Policy and Admin Convener, International Conference.