Gandhinagar to host "G20India Health Ministers' Meeting" on Aug 17-18
BILKULONLINE
Gandhinagar, Aug 17: One of the best-planned cities in India and the capital of Gujarat, Gandhinagar is all set to host the 4th Health Working Group Meeting & Health Ministers' Meeting.
The two day meeting is scheduled for August 17th and 18th.  Delegates & Ministers will deliberate and pave the way towards creating responsive and resilient global health architecture.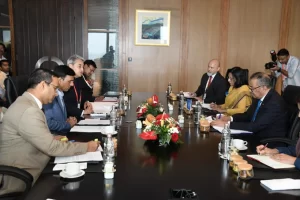 Union Health Minister Dr Mansukh Mandviya held a bilateral meeting with DrTedros, DG, WHO
on the sidelines of 'G20India Health Ministers' Meeting.
Important sessions are lined up for the 1st day of the mega event, which are tabled below. We shall keep our readers updated about further details of the meetings.