Nifty covered 1000-point journey from 19K to 20K in 52 trading sessions
Nifty 50 crossing 20,000 milestone is a testament to the trust of investors on India's capital markets :  Ashishkumar Chauhan, MD & CEO NSE
BILKULONLINE
New Delhi, Sep 11: Nifty covered the 1000 point journey from 19000 to 20000 in 52 trading sessions and this positive momentum is likely to continue going ahead as well, says Siddhartha Khemka, Head – Retail Research, Motilal Oswal Financial Services.
Strengthening of India's positioning in the global arena along with resilient economy would keep the earnings growth robust and provide fuel to the market.
Recently, large caps seemed to have taken a pause while rally was seen in the broader market. But now large caps too have slowly started participating and thus going ahead we can expect the up-move to be led by both large caps and mid-small caps, he said.
Nifty attained new high on Monday by crossing the 20000 milestone during the day post the successful G20 summit which boosted optimism around India's global positioning.
Despite mixed global cues, the index closed positively for the seventh straight session with gains of 176 points (+0.9 per cent) at 19,996 levels. Broader market too touched new highs with Midcap100/Smallcap100 rallying 1.1 per cent/1.3 per cent.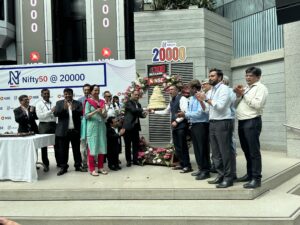 PSU Banks were the biggest gainers with gains of more than 3 per cent followed by Auto, Metals and Energy stocks which increased 1-2 per cent, he said.
Nagaraj Shetti, Technical Research Analyst, HDFC Securities said the short term trend of Nifty continues to be positive. A sustainable move above 20000 mark is expected to pull Nifty towards the next overhead resistance of around 20450 levels. Immediate support is placed at 19850 levels.
On this occasion, Ashishkumar Chauhan, MD and CEO of National Stock Exchange has shared his views on the landmark achievement of Nifty 50 crossing 20,000 milestone for the first time. He says:
Nifty 50 – India's favourite stock index reached a historic and an important milestone of 20,000 mark today. Nifty 50's progress over last 27 years, since it was launched at initial number of 1,000, shows is a testament to the trust Indian  and foreign investors place in India's capital markets and its regulatory, legal system to provide fair, efficient, transparent, low-cost, always available, orderly market place that is better than the best in the world and thought as well as execution leaders in the world not only in terms of trading technologies but also in corporate governance. More than 7.5 crore direct unique PAN numbers having investors are now registered with us suggesting that 5 crore households now directly invest a portion of their savings in equities market via the best in class, most automated, highly regulated markets provided by NSE consistently for several decades since its inception.
My own feeling is that India has come a long way in last 30 years in its markets participation. We have a longer way to go. This is a good beginning. There will be ups and downs in the journey going forward – like in the past. India will continue to progress and markets will continue to reflect that progress as seen in Nifty 50 index. NSE will continue to provide fair, efficient, transparent, orderly, low cost, highly automated markets to India in time to come