Reliance Foundation chairperson Nita Ambani was awarded the 'Citizen of Mumbai' 
BILKULONLINE
Mumbai, Sept 27: Nita Ambani receives the prestigious Citizen of Mumbai Award 2023-24 from the Rotary Club of Bombay – a recognition of her enduring contributions by creating transformative institutions in healthcare, education, sports, arts, and culture.
Nita Mukesh Ambani Cultural Centre in Mumbai, which was opened earlier this year, was envisioned by Nita as a platform to spotlight Indian arts and culture at its best, both for the audience and the artists.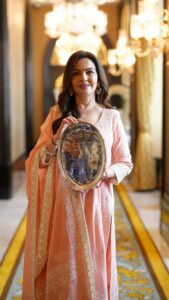 Nita Ambani is the owner of Mumbai Indians, one of the most successful cricket teams in the Indian Premier League. Additionally, Ambani serves as the founder and chairperson of Football Sports Development Limited, which launched the Indian Super League. She also heads the 'Education and Sports for All' initiative, which supports children's development. Furthermore, Ambani owns MI New York, which won the inaugural edition of Major League Cricket (MLC), a professional American T20 league.