When Pixels meet Infinity 'Pixenite Advertising & Branding Agency' is born
Ahmedabad-based 360-degree Agency Pixenite Private Limited wins Dual Accolades at Start-up Brands Awards 2023 organized at Mumbai
Pixenite wins Prestigious Gold award in the Super Category Design for Logo Design of 'House of Wisdom' and  Bronze award in  Super Category Digital for 'fancall campaign'
BILKULONLINE
By Rafat Quadri
Ahmedabad, Oct 5:Two years back two like minded, talented and progressive young men decided to come together to deliver meaningful and creative services in the world of advertising, branding and marketing world Pixenite (pixels+infinity) was born. 
Situated at Satyam 64 on the SG Highway in Ahmedabad, Pixenite is the dream project of once school mates and now the business partners, Imran Khan and Rajan Bhatla.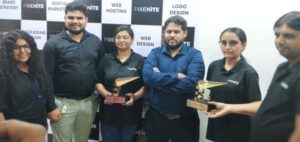 Pixenite is recognized for providing comprehensive 360-degree solutions in branding, digital marketing, marketplace management and web development. Pixenite's wins stand as a testament to their unwavering commitment to creativity, innovation, and excellence in the branding and digital marketing landscape. With a keen focus on delivering results-driven solutions, Pixenite has solidified its position as a trailblazer in the industry.
Currently with some 30 brands in hand, Pixenite has served over 300 clients in a short span of two years and the satisfaction level of the keeps them motivated and charged.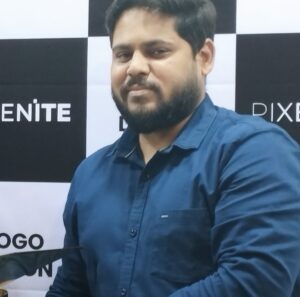 Speaking on the occasion when Pixenite has won two significant awards in the categories of designing and marketing its Founder Imran Khan shared his views with the BILKULONLINE. He said " It's indeed a proud moment for all of us at  Pixenite Private Limited to have emerged triumphant at the prestigious afaqs' Startup Brands Awards 2023, held at The Leela, Mumbai recently".
Pixenite won Gold Award in the Super Category Design for their outstanding Logo Design of 'House of Wisdom'  and Bronze Award in the Super Category Digital for their exemplary performance marketing campaign for 'fancall'.
Imran who is himself a creative mind a designer to the core who did his B.Sc Hons Computing from Teesside University, Middlesbrough- UK, says "it is all possible  because of our strong and talented team of 25. We take our work seriously and sincerely and perform it with focus and dedication as a team."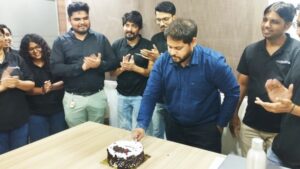 Rajan Bhatla, the co-founder of Pixenite said "We are honoured to receive these prestigious awards. They affirm our belief in the power of imagination and our commitment to crafting exceptional brand experiences. These accolades motivate us to continue pushing boundaries and delivering outstanding results for our clients." 
The afaqs! Startup Brands Awards 2023, held at The Leela, Mumbai, celebrated the remarkable accomplishments of emerging startup brands across various sectors, showcasing their prowess in design, digital marketing, packaging, and more. This year's edition featured 27 award categories, recognizing excellence in diverse aspects of startup ventures.
Pixenite has demonstrated expertise in marketplace services, showcasing a diverse portfolio that extends beyond digital marketing and branding. The company's clientele are from various parts of the World including India, the United States, the United Kingdom, and Saudi Arabia.
(Rafat Quadri can be contacted at editorbilkul@gmail.com)