Alina Alam, founder & CEO of Mitti Café, wins the Anjali Khandwalla creative mentor award
BILKULONLINE
Ahmedabad, Oct 6: Alina Alam, Founder & CEO of Mitti Café, was recently presented with the Anjali Khandwalla Creative Mentor (AKCM) Award for the year 2022-23 at an event held on the MICA campus.  Alam won the prestigious award for instituting a cafe that employs differently-abled people, promotes inclusivity in the truest of senses, and is a celebration of the 'Magic of Abilities.'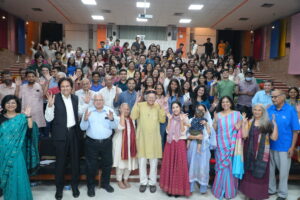 The AKCM award is instituted by the Khandwalla Creativity Foundation under the aegis of Prof. Pradip Khandwalla, founding GC member of MICA and former Director of IIMA, in memory of his late wife,  Anjali Khandwalla. Since 2022, the prestigious award has come under the aegis of MICA, Ahmedabad.
The award was adjudged from various nominations received by a 3-member independent jury
comprising  Anil Sachdev, Founder and Chairman of School of Inspired Leadership, Gurgaon;  Reema Nanavaty, Director of SEWA, Ahmedabad and Nitin Shukla, Director on the Board of Gujarat Foundation for Entrepreneurial Excellence/iCreate, Ahmedabad.
Addressing the audience, Dr. Shailendra Raj Mehta, President and Director of MICA, highlighted the transformative power of mentorship in shaping young minds and spoke of various entrepreneurship opportunities at MICA.
Congratulating  Alam for her work in transforming the lives of more than 4,000 handicapped people, Prof. Pradip Khandwalla said, "I see five traits of a creative mentor: The mentor should himself/herself be a creative person, the mentors should enable the mentees to be creative, enable them to bring out their energy, infuse them with information and technology and requires his/her mentee to experience success."
 Alam started MITTI Cafe at 23, intending to work towards the economic independence and dignity of people with physical, intellectual, and psychiatric disabilities. Under her leadership, Mitti Café has served over 11 million meals and distributed 4 million Karuna Meals during the COVID-19 pandemic.
Upon receiving the award, Alam said, "This award is not about me but the people. I am proud, happy, and enchanted by the many lives I have impacted. There are billions of unprivileged people in our society, and our social duty is to help and empathise with them. And if we do that right, the world will change for the better."
The event was graced by esteemed dignitaries from the academic fraternity and the city of Ahmedabad.
.