SVPI Airport Bags 5 Awards for Quality Concepts Convention
BILKULONLINE
Ahmedabad, Oct 7: Sardar Vallabhbhai Patel International Airport (SVPI) has been commended and awarded for its exceptional and innovative initiatives to enhance the passenger experience. At the Ahmedabad Chapter Convention on Quality Concepts, organized by the Quality Circle Forum of India, different teams from the airport showcased their projects in a competition. They were honored with five gold awards in the categories of Kaizen, 5S, and Allied concepts.
The presented projects stood out for their focus on innovation, dedicated efforts, and flawless execution in improving the passenger experience at SVPI Airport. The airport has been consistently working towards providing top-notch services and elevating the overall travel experience.
One of the projects recognized was awarded for improvements in the airport's upcoming new F&B area, specifically the wastewater drain system. Additionally, the airport's energy-saving initiatives were acknowledged, including upgrading the air conditioning system in the Radar building with an environmentally friendly refrigerant (R-410). Furthermore, installing highly efficient centrifugal chillers and low approach high-efficiency cooling towers resulted in significant energy savings.
The customer experience team at SVPI Airport was honored for various initiatives catering to passengers with reduced mobility. These initiatives included providing dedicated spaces at each baggage belt for wheelchair passengers to collect their luggage, reserved parking spaces and drop-off/pickup areas for wheelchair passengers in both terminals and accessible toilets for all passengers with reduced mobility.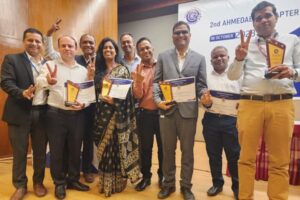 The airport's engineering and maintenance team received recognition for introducing process improvements that led to water savings by replacing washroom aerators.
Additionally, SVPI Airport's facility management team was awarded for implementing the 5S concept, which involved initiatives such as paperless washrooms, the installation of a signature AHU scent system, enhanced visual communications through creative fire extinguisher placements and attractive "Under Maintenance Signages," and the provision of luggage racks in washrooms for passenger convenience. Scooter mops and scooty pushers were introduced to eliminate manual cleaning and facilitate luggage trolley movement to improve operational efficiency.
Participating in the Quality Circle Convention provided SVPI Airport with a platform to showcase their QC achievements and foster continuous improvement in quality concepts within their respective organizations.