Renewal of MoU marks a Milestone in the Collaboration between ICAI and IGNOU
BILKULONLINE
Ahmedabad, Oct 10: The Institute of Chartered Accountants of India (ICAI) through its academic wing, Board of Studies (Academic), joined hands with Indira Gandhi National Open University (IGNOU) in a momentous ceremony to renew the Memorandum of Understanding (MoU), which has flourished since 2007. The event, graced by the presence of CA. Aniket Sunil Talati, President, ICAI; CA. Ranjeet Kumar Agarwal, Vice President, ICAI; CA. (Dr.) Debashis Mitra, Immediate Past President, ICAI; CA. Vishal Doshi, Chairman, Board of Studies (Academic); CA. Dayaniwas Sharma, Vice Chairman, Board of Studies (Academic), ICAI; Central Council Members and Govt. Nominees, ICAI; Prof. Nageshwar Rao, Vice-Chancellor, IGNOU; Dr. Alok Chaube, Registrar (Administration), IGNOU; Prof. M.S. Senam Raju, Director, School of Management Studies (SOMS), IGNOU, along with officials from ICAI and IGNOU. This MoU is a testament to the enduring and fruitful partnership between these two prestigious institutions.
Over the years, this partnership has made a significant impact, with more than 48,000 ICAI students successfully completing the B.Com. (Accountancy & Finance) course and more than 8,000 students completing the M.Com. (Finance & Taxation) course through IGNOU. These impressive numbers reflect the profound impact this collaboration have had on the lives and careers of countless students.
On this occasion ICAI President CA. Aniket Sunil Talati said: "Renewal of MoU with IGNOU reflects our unwavering commitment to quality commerce education in the Country. Our partnership has empowered thousands of students, and I believe our collaboration will continue to create opportunities for many more. This collaboration underscores the commitment of ICAI and IGNOU to advance education and the professional development of students. It highlights the transformative power of collaboration and innovation in the field of education."
Both ICAI and IGNOU have recently updated their curriculum to conform to the guidelines outlined in the new National Education Policy 2020.
One of the major announcements during the ceremony is the introduction of credit transfer opportunities for ICAI students. Under this MoU, ICAI students will be eligible for credit transfer for courses they have completed through ICAI, up to 50% of the total credits of the IGNOU programme. This initiative underscores ICAI's commitment to evolving with the changing educational landscape and aligning with the principles of the National Education Policy (NEP) 2020. Credit transfers will be facilitated on a course-to- course basis for Foundation, Intermediate and Final level courses.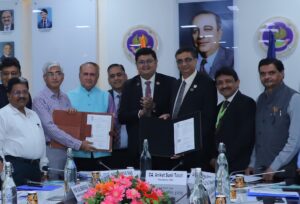 ICAI Vice-President CA. Ranjeet Kumar Agarwal said: "ICAI and IGNOU are dedicated to shape the future of education. The credit transfer initiative is just one example of our commitment to continuous adaptability in a changing educational landscape."
Additionally, faculty members from IGNOU and ICAI will collaborate to explore the feasibility of mapping courses offered by both institutions.
Vishal Doshi, Chairman, Board of Studies (Academic) said: "It is a moment of immense pride for us to celebrate the renewal of this partnership. The credit transfer process as per NEP 2020 guidelines and faculty collaboration will enhance the educational experiences of our students."
The MoU also sets the stage for a broader collaboration, including joint workshops, seminars, continuing education, training programmes, and academic offerings for practicing professionals, corporate executives, faculty members, research scholars, etc. These initiatives will revolve around topical and professional interests, offering a platform for expanding knowledge and skills.
Dayaniwas Sharma, Vice Chairman, Board of Studies (Academic) said: "The joint initiatives under this MoU are testimony to the spirit of cooperation. We are creating a collaborative ecosystem that will foster academic and professional growth for our students alike in the field of Commerce & Accountancy."
Prof. Nageshwar Rao, Vice-Chancellor, IGNOU said: "IGNOU and ICAI have mutual interests, as both institutions are involved in distance learning, conduct bi-annual examinations, and maintain regional offices nationwide. We also anticipate ongoing collaboration with ICAI in the realms of management and technology courses besides Commerce & Accountancy."