SVP International Airport gets an expanded Departure Immigration Area in the International Terminal T-2
BILKULONLINE
Ahmedabad, Oct 18: Today all new and expanded Immigration area in departure is made open for passengers travelling through the International Terminal T-2 of the Sardar Vallabhbhai Patel International Airport. This strategic addition will enhance passenger flow during peak hours, ensuring a smoother and more efficient departure experience for all the travelers heading to international destinations. Currently, the international terminal caters to a daily average of over 2500 passenger departures connecting Ahmedabad to more than 14 destinations worldwide through 17 airline partners.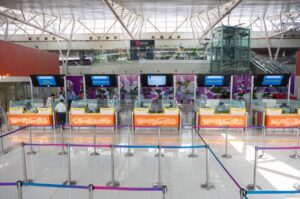 The expansion project is part of our continuous commitment to providing an elevated passenger experience. By streamlining processes and optimizing infrastructure, Sardar Vallabhbhai Patel International Airport aims to offer all travelers a remarkable and seamless journey.
The new departure immigration area at Terminal 2 is equipped with state-of-the-art facilities and modern technologies aimed at expediting the immigration process and reducing wait times. Passengers can expect increased efficiency and improved service quality, enhancing their travel experience.
Recently, the new arrival hall was also inaugurated at the international terminal with International-to-International (I-to-I) transfer, increased passenger seating capacity, and many other passenger centric facilities.
Sardar Vallabhbhai Patel International Airport strives to create a world-class travel hub by combining aesthetic elegance, cultural highlights, and efficient infrastructure. The enhancements at Terminal 2 reinforce our commitment to meeting the evolving needs of passengers and ensuring their satisfaction on every journey.