"DSIR – CRTDH Conclave 2023: Viksit Bharat Abhiyan – Empowering MSMEs & Startups" concludes at IITGN
MSMEs contribute nearly 40% to the GDP, and seamless collaborations between industry, academia, and research organisations will help to develop new technology – Dr N Kalaiselvi
BILKULONLINE
The two-day "DSIR – CRTDH Conclave 2023: Viksit Bharat Abhiyan – Empowering MSMEs & Startups" concludes at IITGN with focused discussions and knowledge exchanges on (1) Environmental Interventions, (2) New Materials/Chemical Processes, (3) Affordable Healthcare, (4) Electronics/Renewable Energy, and (5) Low-cost Machining
Gandhinagar, Nov 7: "Nearly 40% of India's GDP's share is growing from the contributions of Micro, Small, and Medium Enterprises (MSMEs) and seamless collaborations between industry, academia, and research organisations will result in the emergence of new ideas and development of new technology for the common people", said Dr N Kalaiselvi, Secretary, DSIR & Director General-CSIR, Ministry of Science & Technology, Government of India (GoI), delivering a virtual inaugural address at the "DSIR – CRTDH Conclave 2023: Viksit Bharat Abhiyan – Empowering MSMEs & Startups" on November 6, 2023.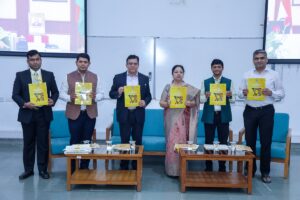 Adding further, Dr Kalaiselvi said, "India model is now accepted across the world. The challenges do not deter us because they give us the opportunities and new avenues to prove our capability to the entire world. We are no longer doing lab-centric R&D; instead, these days we are focusing on translational and transformational research that reaches from lab to land." She also encouraged all the participants of the Conclave to create new collaborations and working order.
The two-day Conclave hosted by the Indian Institute of Technology Gandhinagar (IITGN), as one of the 18 Common Research and Technology Development Hubs (CRTDHs) of the country, in collaboration with the Department of Scientific and Industrial Research (DSIR), Ministry of Science & Technology, Government of India, concluded today with participation by more than 250 scientists, researchers, and distinguished professionals from industries and startups from across the country.
The CRTDH programme, initiated by DSIR in 2014-15, has now entered the 10th year of successful implementation with 18 CRTDHs across the country. Addressing the participants, Dr Sujata Chaklanobis, Scientist-G & Head CRTDH, DSIR, Government of India, said, "India is set on the path of growth, and to achieve this growth, MSMEs and startups need to be innovative and competitive and perform meaningful R&D for development of new products and processes. To aid them in this journey, we are aiming to expand the network of CRTDHs across India by having its presence in all the states and UTs and contribute to the mission of enabling India to emerge as a global industrial and innovation hub to serve society in the best possible way."
The CRTDH Portal, developed by a BTech student at IITGN, and CRTDH's decennial journey report and a report of Chintan Shivirs were also unveiled on the occasion, and Prof Chinmay Ghoroi, Principal Investigator of DSIR-CRTDH, IITGN, and coordinator of the Conclave, gave an overview of all the information and facilities available on the Network CRTDH platform at one click. This will immensely help Industries/Startups to connect with all 18 CRTDHs across the country.
The Conclave saw the participants engaging in focused discussions and knowledge exchanges on five key themes: (1) Environmental Interventions, (2) New Materials/Chemical Processes, (3) Affordable Healthcare, (4) Electronics/Renewable Energy, and (5) Low-cost Machining. The event also organised an exhibition on the technology offerings from 18 CRTDHs for industries and five short workshops on topics such as (1) 'Low-Cost, High-tech Automation for MSMEs', (2) Flow Synthesis & Continuous Manufacturing', (3) 'Hazard Identification using HAZOP', (4) 'Innovation & Startup Ecosystem in CRTDHs', and (5) 'Energy Assessments for MSME Industries'.
The event served as a platform to boost industry-academia interaction and collaboration by discussing and exchanging ideas on required technologies, training programmes and testing solutions for MSMEs and making collective efforts to empower MSMEs/Startups to accelerate India's growth journey.