Sardar Vallabhbhai Patel International Airport sets new record
                 Serves 40,801 passengers in a single day and handled 359 flight movements
BILKULONLINE
Ahmedabad, Nov 20: Sardar Vallabhbhai Patel International Airport (SVPI) sets new record by serving 40,801 passengers on the day of Cricket World Cup 2023 in Ahmedabad.
With meticulous planning and preparedness, the airport also handled the highest-ever flight movements on 19 November 2023. The airport recorded over 260 Scheduled and 99 Non-scheduled Air Traffic Movements (ATMs), further solidifying its success. Of 40,801 passengers who travelled through SVPI airport, 33642 were domestic passengers, and 7159 were international passengers.
The milestone was achieved in 23 hours since the airspace was closed for over 45 minutes due to an air show by the Indian Air Force. Along with the highest number of Passenger movements, Ahmedabad Airport welcomed two VVIP guests and ensured seamless coordination in their flight movement.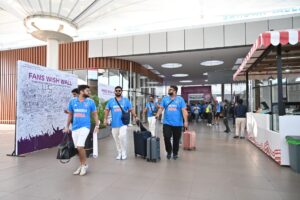 This exceptional accomplishment results from the ongoing infrastructure updates and constant improvements at SVPI Airport. It is a testament to the dedication and hard work of all the airport staff, including AAI, CISF, Immigration, Customs, airline partners and the SVPI airport team. Ahmedabad Airport has undergone several significant changes over the last couple of years to enhance passenger experience.
The additions like self-baggage drop, new immigration area, arrival extension in the domestic terminal, new security check area in the domestic terminal, dynamic queue management, and floor-walking customer service executives to help passengers pass through the terminal building have added to the seamless travel experience.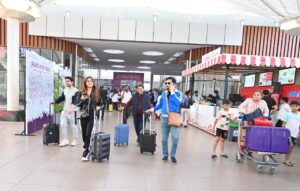 Recently introduced Digi Yatra for faster entry from the terminal gate along with new infrastructure like a large arrival hall with an additional belt, upgraded baggage check-in system, increased pre-SHA area, increased x-ray machines, and required infrastructure. Before this milestone number of passengers, the SVPI airport witnessed 2nd highest passenger movement, on 18th November when the airport served 38723 passengers with 273 flight movements and 3rd Highest passenger movement on 19th February with 37793 passengers with 268 ATMs.