Exhibition celebrating Ahmedabad's rich history and heritage begins
The exhibition, a collection of sculptures conceptualised, created, and carved by Sagara, is a tribute to the heritage legacy of the city of Ahmedabad
BILKULONLINE
Ahmedabad, Feb 26: 'Lay Witness', an exhibition of national award winner Rajesh Sagara's curated creations to mark the 611th birthday of Ahmedabad city began Saturday at Gujarat University Library lawns.
The exhibition commenced in the august presence of Ahmedabad municipal commissioner Lochan Sehra, Tourism Corporation of Gujarat's managing director Alok Kumar Pandey, Gujarat University Vice-Chancellor Prof Himanshu Pandya, real estate developer and town planner NK Patel, Savani Heritage Conservation managing director Ram Savani, among other distinguished guests.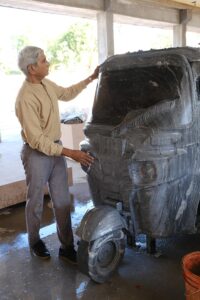 Organised by 'GalleryRa' , an Ahmedabad-based organisation of professional art enthusiasts, and a part of 'InventArt', the exhibition 'Lay Witness'' celebrates the cultural heritage of Ahmedabad city. "Each of the sculptures that are a part of the exhibition reflects our intrinsic relationship with Ahmedabad and pays a tribute to its cultural history while staying relevant to the urban revolution," said Sagara about the exhibition and its close links with a 611-year young Ahmedabad. The setting of the larger than life works in the open-air grounds of Gujarat University is a perfectly immersive experience to celebrate the spirit that defines Ahmedabad's history on its birth anniversary, and a continuation of his efforts in promoting and preserving the city's art, culture, and heritage.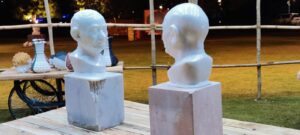 "GalleryRa is very happy to present this excellent exhibition on Ahmedabad's foundation day. The exhibition is for the people of Ahmedabad, and we are confident a large number of people will visit it. We aim to encourage more artists by supporting more exhibitions at interesting places like the Gujarat University lawns," said Niharika Shah, Founder, InventArt. Rajesh Sagara, who has received a National Award for Sculpture and has been awarded the Gujarat State Lalit Kala Academy Award many times, aims to make art accessible by sharing his artworks openly with the community and breaking the barriers between artists and the audience. He works primarily in stainless steel, stone, wood and bronze. His sculptures tend to explore how an individual negotiates the relationship between their identity and the history of a city. The exhibition will be on till March 12 opposite Gujarat University Library from 4:00 pm to 8:00 pm.