Udgam Trust marks Women's Day by honouring women achievers
30 women and 1 man, who have made a mark in the fields of business, social work, education, health, arts, fashion, etc. felicitated with Udgam Women Achievers Awards
BILKULONLINE 
Ahmedabad, March 7:  Ahead of International Women's Day on March 8, the city-based Udgam Trust felicitated 30 women achievers and 1 man who is working for women empowerment at the 13th Udgam Women Achievers Awards on Sunday.
The Trust organised the Usha Parva, on the 13th Udgam Women Achievers Awards, to recognise the singular contribution of outstanding women in different fields and to honour them. The winners are chosen for their vision, courage, compassion, success, and generosity as demonstrated by how they help other women succeed. "Women are making an unequalled contribution to all fields, be it business, service, society, arts, culture, science, law, or any other that we can think of. There are also now more opportunities than ever for women in India, and women are making the most of them. I congratulate all the deserving winners of the Udgam Women Achievers Award. I also appreciate Udgam Trust for honouring the women achievers. I am confident the awards are not only a worthy recognition for the winners but also an inspiration for more women achievers," said Union minister of state for communication Devusinh Chauhan, the chief guest at the awards ceremony. Thirty women achievers and one man were felicitated with the Udgam Women Achievers Awards for their contribution in the fields of social work, fashion & lifestyle, arts & culture, business, education, literature, health, business, and many others. "The Udgam Women Achiever Awards are our humble endeavour to recognise the untiring efforts and exceptional contribution of women achievers to their respective fields. It is our privilege to felicitate them," said Dr. Mayur Joshi, Managing Trustee, Udgam Trust. 
The award winners were selected by an eminent jury comprising businesswoman and socialite Purva Shah Patel, Director of Law Department at GLS University Dr. Mayuri Pandya, architect & designer Archana Shah, entrepreneur and social worker Priyanshi Patel, Ahmedabad Management Association's executive director Unmesh Dixit, cultural activity curator Asha Sarvaiya. social worker and author Vaijayanti Gupte, and social worker and Supreme Court lawyer Deepika Chavda.
The guests of honour at the award ceremony included rural development minister Arjunsinh Chauhan, minister of social justice & empowerment Pradeep Parmar, labour and employment minister Brijesh Merja, state president of Youth BJP Prashant Korat, deputy high commissioner of British High Commission in Gujarat, Peter Cook, Gujarat University VC Prof. Himanshu Pandya, noted real estate developer NK Patel, Heart Foundation of India chairman Dr. Nitin Shah, and MD of PC Snehal Group Chiranjiv Patel.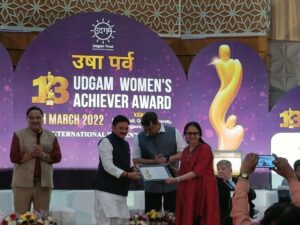 List of Award Winners
Yoga coach Parul Mehta for Social Work
Swaroopa Foundation founder Roopa Shah for Social Work
Entrepreneur and philanthropist Shraddha Soparkar for Social Work
Prayosha Mahila Vikas Education and Charitable Trust founder Laxmi Joshi for Social Work
Anaj Bank founder Dr. Amita singh for Social work
Artist and Vinnie's Art World Founder Vinisha Ruparel for Art & Culture
Artist Bhartiben Popat for Art & Culture
Artist and Choreographer Hema Bhatt for Art & Culture
Fashion blogger Abhinisha Zubin Ashara for Fashion & Lifestyle
Fashion Designer Canny Sanjay Shah for Fashion & Lifestyle
House of Marigold Founder Shilpa Choksi for Fashion & Lifestyle
Journalism & author Kashyapi Maha for Journalism
Disha Consultants' Founder Kavita Parikh for Entrepreneurship
Businesswoman Chanchal Soni for Entrepreneurship
Writer, poet and educationist Shraddha Ramani for Literature
Author and columnist Sonal Gosalia for Literature
Managing Partner at law firm Raval and Trivedi Associates Namrata Trivedi for Corporate
Teacher and Principal Minaxi Joshi for Education
Teacher and Author Dr. Anna Neena George for Education
Singer Amanpreet Kaur for Music
Arrow Fitness Hub owner Snehal Brahmbhatt for Health
Gynaecologist Dr. Hetal Patolia for Health
Specially-abled Gujarati author Meghal Upadhyay for the cause of Divyangs
Foodpreneur & a recipe curato Swetha Aythorr for Digital Influencer
RJ and content creator Aditi Raval conferred the Iconic Personality Award
Dr. Asha Patel was conferred the Lifetime Achievement Award
Chairperson of Indian lions Asha Pandya was conferred the Lifetime Achievement Award
Stage, TV and film actor Bhavini Jani named in the Hall of Fame
Politician and social worker Jasumati Savjibhai Korat named in the Hall of Fame
Destination event planner Shreya Gidra conferred Young Achiever Award
Social work Mahesh Vara for men for women empowerment