This World Health Day, Special Olympics Bharat organises the largest National Health Fest for Persons with Intellectual Disability (Divyangjan)
Health screening being conducted over 75,000 athletes across 75 cities and over 10,000 across 33 districts in Gujarat 
BILKULONLINE
Ahmedabad, April 7:Lunched under the Azadi ka Amrit Mahotsav initiative by the Government of India and on the occasion of World Health Day on April 7th, Special Olympics Bharat today launched the largest National Health Fest for people with intellectual disability (Divyangjan). This initiative will offer free health screening of 75,000 athletes with intellectual disabilities in over 75 cities of India to mark 75 years of India's independence. The objective is for them to get back on track with their health and return to play in an inclusive world.
Supported by the Government of Gujarat, one of the biggest initiatives in this national initiative kicks off in Gujarat with around 10,000 Special Athletes from 33 districts, who willbe medically screened. Out of these, over 7500 athletesareparticipating in the screeningat the Karnavati University, Ahmedabad, on the 6th and 7th of April 2022.Meanwhile, athletes from 4 districts of Gujarat will also be screened in Surat at the Municipal Corporation Indoor Stadium.
Speaking on the occasion of launching this first of its kind initiative, Dr. Mallika Nadda, Chairperson Special Olympics Bharat said, "Special Olympics Bharat supports people with intellectual disabilities using sports, health, youth leadership as interventions to improve their lives in a movement towards building inclusion, dignity and respect in society. Over 190 countries are part of this program and we are proud to say India is the largest running program across the world with over 17 lac special athletes from India registered as part of the Special Olympics movement. This program has spread across all towns, districts and villages. Covid 19 impacted these special athletes immensely. They could not access sporting activities or schools. We need to help them return to play, and the first step we need to take is a health screening via this National Health Fest for Divyangjan. We must accept, include, recognise and respect these special athletes."
This milestone event for Special Olympics was also witnessed by global leadership of Special Olympics. Dr. Alicia Bazzano, Chief Health Officer, Special Olympics International said, "Sadly people with intellectual disabilities were affected more drastically by the pandemic. Our athletes suffered from declining mental and physical health during this time. People with intellectual disabilities face a lot of health issues which may not be due to the disability itself but due to preventable conditions. If we detect these conditions early and provide inclusive healthcare it can significantly impact their life spans as well. There are over 20 million Indians living with intellectual disability today, this event is a marker of what a modern and inclusive India looks like."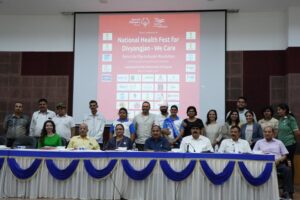 Further adding to this, Dipak Natali, President & Managing Director, Special Olympics Asia Pacific aptly concluded, "What is wonderful about what we are doing today is expanding peoples understanding of what we do with Special Olympics. While sports is the start of the journey of our athletes with special Olympics, we find opportunities to change their lives. The first step in that journey is health screening. Events such as this really helps change the way people with intellectual disabilities are treated in their communities."
Gujarat would screen the maximum number of athletes across three disciplines, Special Smiles (Dental), Opening Eyes (Eye examination), and Health Promotion (Preventive & Nutrition), conducted by 750 clinical volunteers. supported by 500 non-clinicalvolunteers and involving overall 7-8 medical institutions from the surrounding areas of Ahmedabad.
Event on 7 April 2022
Following medical screenings that will be conducted on 7 April,the athletes will then assemble for the closing ceremony at the Narendra Modi Stadium from 5:30 PM – 7PM.The event will be presided by the Hon'ble Chief Minister of the State of Gujarat, Bhupendra Rajnikant Patel. He will be joined by many more distinguished guests including, Dr. Alicia Bazzano, Chief Health Officer of Special Olympics International,  Dipak Natali, Regional President & Managing Director of Special Olympics Asia Pacific, and Dr Mallika Nadda, Chairperson of Special Olympics Bharat and Dr DG Chaudhari, General Secretary of SO Bharat.
The event will feature the popular Porbandar Gujarati Dandiya Raas. The cultural show will be followed by a Fit 5 regimen demonstrated by 5000athletes, and will also be pitched for the Guinness Book of Records.The celebratory ambiancewill scale with the announcement of the various awards received by SO Bharat through the health fest.