AB Jewels-AMA Centre for Professional Skills Development inaugurated
The Centre will focus on skill development and enhancing standards in the jewellery industry
BILKULONLINE
Ahmedabad, May 1: Ahmedabad Management Association (AMA) and AB Charitable Foundation, a CSR part of leading jewellery house AB Jewels, have collaborated to establish the AB Jewels-AMA Centre for Professional Skills Development at AMA.
The primary objective of the Centre is to facilitate sharing of knowledge and experience to develop professional skills across the jewellery industry and to conduct various programmes and activities to encourage skill development.
The Centre, which also aims to enhance the standards of the jewellery industry, was inaugurated at AMA on Saturday by BS Nagesh, Founder, Trust for Retailers and Retail Associates of India (TRRAIN) and Non-executive Chairman of Shoppers Stop.
"India is home to the world's youngest population with around two-thirds of the population below 35 years of age. To take maximum advantage of this demographic dividend, it is imperative for the country to train and skill the youth. All stakeholders, including the government, industry, and academia must play an initiative-taking role in this, and it is heartening to note that everyone is playing their role. I am confident this new centre will play a significant role in contributing to skill development," Mr. Nagesh said in his address on the topic "Future of Skilling and Livelihood Creation."
"Skill development is a vital tool to prepare a person for a career and his overall development as an individual. It is an important aspect to enhance one's employability in today's highly competitive age. The AB Jewels-AMA Centre for Professional Skills Development has been established to support skill development. We are thankful to AB Charitable Foundation for their support and are confident the centre will benefit thousands of people," said DJ Radia, President, AMA.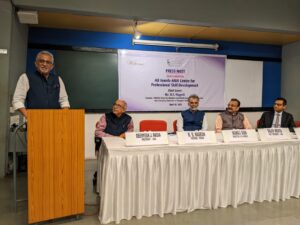 "Skills are now considered as essential as one's academic qualification, and we are happy to support this centre that will primarily focus on skill development in the jewellery industry. As the jewellery industry becomes more organised, skill development is much needed for the lakhs of people connected with the industry. Ahmedabad Management Association is a thriving hub of learning and knowledge-sharing and the perfect home for this centre," said ManojSoni, Director, AB Jewels.
The AB Jewels-AMA Centre for Professional Skills Development will offer certificate programmes in professional skill development including untapped jewellery industry, annual seminars/conferences, sessions by successful entrepreneurs, case study documentation, and other initiatives focused on skill development.
Acquiring skills can lead to industrial advancement, economic diversification, innovation, technological evolution, and the overall development of the country. According to the World Trade Organisation, the GDP level can grow by 3-5% in 2035 if India focuses on skill development and training.