Adani Foundation helps Mundra women farmers write their success story
BILKULONLINE
Ahmedabad, March 7: Exotic is the word that comes to our mind when we think of a Dragon fruit, which is typically a central American origin fruit. But today in our markets, Dragon fruit is easily available, and do you know how? It is because of farmers like Geetaben from Mangra village in Mundra, Gujarat. Surprising isn't it that a small-time farmer from a remote area like Mundra is producing such an exotic fruit in her field! But she is one of the many female farmers whose voices are no longer going unheard owing to their gender, and they are scripting tales of success all because of the assistance from the Adani Foundation.
The Adani Foundation is working with over 17000 farmers covering 25000+ acres of farmland in India. It is committed to spread awareness and the use of organic manure and organic pesticides.
Geetaben got married into a farming family some 30 years ago, but it was not until 2018 when her husband Bharat Jethva (the first farmer in Mundra district to initiate the cultivation of Dragon fruit) passed away that she had to pivot in her life. It was a rough time for her managing the farming activities single handedly as well as raising her four kids. "It was a do or die situation for me as I had no choice but to take up farming of our family's 4 acres of land. I started with cultivating seasonal fruits and vegetables and that was when I met members of the Adani Foundation at the Natural Farming Training camp in our village. It was then that my life changed, and my job became much easier," says Geetaben.
Today, after the intervention and continuous training by the Foundation, she has switched completely to natural techniques that is through making and using organic manure. Her success has inspired scores of women from her village to come in the forefront and take up farming. In fact, she is an inspiration at home, her three daughters are eager to follow in their mother's footsteps and are taking training from their mother to do so and going to the farms regularly.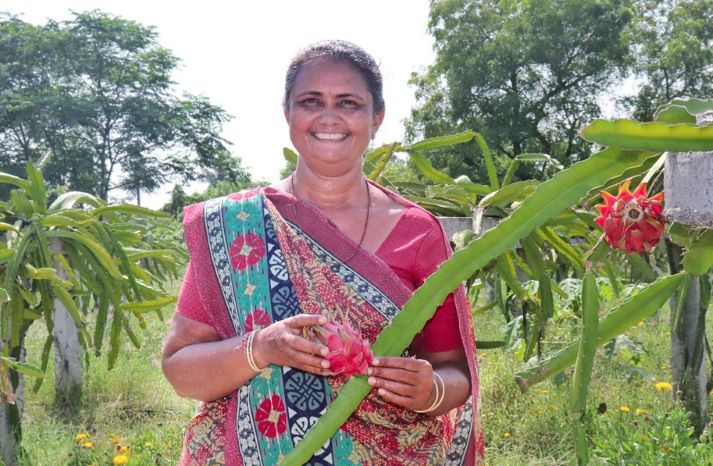 Most of the times, entrenched gender roles in our country prevents women from taking up this profession and come in the forefront as primary farmers, who not only grow crops using modern techniques of farming but also take crops to market and decide price points, feels another female farmer from the area Pragatiben.
She is happy to say that gap has been fulfilled by the Adani Foundation that collaborates closely with these farmers to upgrade their skills and equip them with organic techniques and take on more leaderships roles in their lives in the process resulting in wealth creation and empowerment of rural women, including her.
Pragatiben has been associated with the Adani Foundation for the past one and half years. Earlier her father-in-law was involved in farming, and she joined the family work four years ago. And there has been no looking back for her.
 "It is the most fulfilling profession in the world. Women farmers in India perform most of the big farming jobs, from sowing to harvesting, yet their access to resources is lesser than their male counterparts. Closing this gender gap is essential to accelerate the pace of growth in the agriculture sector. Women never got their due recognition and credit. Today because of the Adani Foundation, people know me, and other women farmers. The yields have increased 40% and so has my income. My husband, who is an electrician, is so proud of me and he tells everyone about my achievements," she shares.
International Women's Day Special