Two Fempreneurs of Ahmedabad join hands to take you to skies and over the land
Vaishali and Himani are the travelpreneurs to arrange your tours & travels
BILKULONLINE
By Rafat Quadri
Ahmedabad, July 2:
"A strong woman knows she has strength enough for the journey, but a woman of strength knows it is in the journey where she will become strong"
Today we shall share the success story of two such women who have had their business journey and accomplishment therein. But, it is not an end to it, they now decided to shake hands to make it a journey of doing business together.
While Vaishali Vaidya Acharya is dealing in the business of organising field tours, travels and cab services solutions, Himani Aurora has relentlessly worked for air travel solutions. Both of them have had a common idea of serving passengers to move from places within the country, their stay in hotels or to fly places within the country and abroad.
Both of them live in Ahmedabad and have had professional acquaintance about each other. In fact, Vaishali with a smile says "earlier I sued to find Himani as fierce competitor and thought she is the big fish in the sea who will gulp me down but when we decided to interact it was a totally different equation. Today for last six months we have been doing business together and at a stage when we are about to form a single entity of both of us together."
Himani adds "I had heard good work carried out by Vaishali in the tourism field, especially during Covid-19 days when the whole world was at a standstill it was Vaishali's booming business which helped people reach to places in the difficult hours. She not only earned money but also the respect. This is how I realised how capable she must be, handling fleet of vehicles, arranging tours and travels so efficiently. Today, we are steps behind forming a single business entity of both together. Since I possess over two decades' experience in air passengers' booking solutions Vaishali takes care of on land services of travel. Together we can complete the journey of today's traveller".
In today's competitive world, collaboration of brands is of significant importance as it offers numerous benefits that can contribute to the success and growth of the participating brands. It is crucial for driving growth, expanding market reach, fostering innovation, and building stronger brand identities. By combining their resources, expertise, and customer bases, brands can create mutually beneficial partnerships that yield long-term success. It enhances credibility and trust, provides access to newer markets and segments, helps in knowledge sharing and innovation and helps in competitive advantages through cost and risk sharing.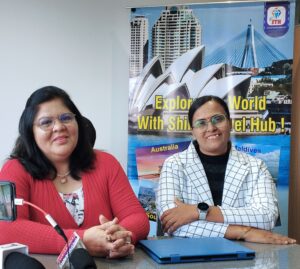 Vaishali and Himani of Ahmedabad with their impressive experience in the field of tours, travels and cab services solutions across the globe have decided to join hands to be able to provide Paisa Vasool trips and an agency with a soul for their travel loving customers. They are set to open their new collaborative venture on 2nd July, 2023 and geared up to present some amazing offers and exquisite services for their clients and community.
Vaishali – Founder of Bhaktvatsal Services became a travelpreneur from Grass Root Level through immense hard work and training, associated with Uber and Ola and helped more than 25000 happy customers to reach their destinations. She has created a niche for herself as a "One way Cab" service provider in a Male dominated Taxi Service Industry and in a short span of time she has expanded her reach to PAN India network of Drivers and Vendors from Luxury Buses to Taxis. She even manages Corporates and their requirements in business events. Her business also has networks of Hotels and Resort in India as well as in various countries like Dubai, Singapore, Malaysia, Thailand and Maldives. With intention to have Paisa Vasool Vacation, Honeymoon trips and business Trips of Customer, She always ready to support 24X7 without any time zone boundaries. Apart from Travel industry she has also produced a Short Film "Vaishnav Jan" which was selected as International Gujarati Film Festival in Los Angeles, USA. She drives her business with sense of Social-economical Responsibility.
Himani Aurora – Founder of Shirin Travel Hub began from the Skies.  With 28 years of experience in the tours and travel industry, her journey began in 1994 with Delta Airlines.  For the next 24 years she worked for some other international airlines and Holiday companies like Mercury Travels and TUI India. Then she started her own venture –  Shirin Travel Hub in Ahmedabad in 2018. As a one stop shop solution for extended travel products like flight tickets, visas, insurance, travel insurance, foreign exchange etc. , she catered to mainly domestic and international holiday packages for families, individuals, adventure travellers, destination weddings,  corporate travellers and group travel. She has designed, organized and executed customized holiday packages for travellers mainly to international destinations in Europe, USA, Canada, Japan, Australia, New Zealand, Dubai, Singapore etc as we also provide assistance with domestic travel destinations. She believes that that she has "an agency with a soul".
'Growing Domestic Tourism, Excellent Government Initiatives and call for Atmanirbhar Bharat Campaign & Incredible India, G20 Leadership, Vibrant Gujarat, Medical Tourism, The Cultural and Heritage tourism in India and especially in Gujarat due to Statue of Unity Circuit and the new Narendra Modi Cricket Stadium, Growth of Hospitality Industry and Adventure Tourism means that people from all across the globe would now travel to Ahmedabad, Gujarat and will need professional travel services and hence we need to work together as experts to manage the industry. I am happy that I and Himani came to a collaborative understanding and we look forward to work together,' states Vaishali. 
'There are immense global opportunities this year as the Economic Growth and Disposable income of Gujarati families are favourable, Gujarati families are ready to explore new destinations, looking for educational opportunities, post covid19 pandemic they are looking for vacations as an opportunity to bond better, strong Gujarati diaspora across the globe have become stronger and there is easy accessibility. And now Ahmedabad will even have an American Embassy. So our collaboration comes at a right time as there is lot of quality work to be done in tour and travel industry,' informs Himani on the collaboration announcement.  
Also present on the occasion were some happy customers who gave their happy testimonials and experience sharing on the importance of a professional tour manager and guide for life changing moments and destinations.
(Rafat Quadri canbe contacted at editorbilkul@gmail.com)