Dr. Manjula Pooja Shroff's book "Baby Steps to Big Dreams – Essential Conversations for Modern Parents" could well serve as a Manual for good parenting
225 paged book priced at Rs. 495 provides an insight into good parenting –
of a child from his arrival in a mother's womb to gaining adulthood  
BILKULONLINE
By Rafat Quadri
Ahmedabad, Sept 1: Dr Manjula Pooja Shroff is a well-known and respected name in Gujarat and India for her relentless and innovative style of education and imparting knowledge to young minds.
Dr Shroff with her royal background carries the charisma and style to her dedicated and passionate frame of a teacher a mother and a kind person.
However, BILKULONLINE is today focussing on the book of Dr Manjula Shroff titled "Baby Steps to Big Dreams – Essential Conversations for Modern Parents" which was released before the select media on Friday in Ahmedabad.
The 225 paged book priced at Rs. 495 aims at essence of good parenting – for a child from his arrival in a mother's womb to gaining adulthood. It has been published by Renu Kaul Verma  of  Vitasta Publishing Pvt Ltd, a New Delhi-based independent publishing house.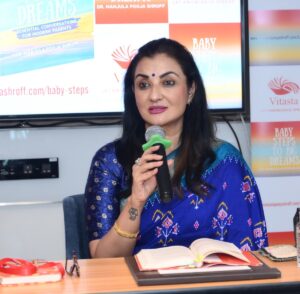 Dr Shroff a passionate teacher and a loving mother has dedicated the book to her son Advait Shroff alongwith score of students of Kalorex and to the rural children.
"Success Mantras and Musings" is a glimpse into the journey of entrepreneur-educator Manjula Pooja Shroff, who went beyond the rule book to create her own path for success. From a pampered life at the Surangi Palace in Odisha, to facing the harsh realities of a hostel, to coping with the loss of loved ones at a young age and then moving into a world far beyond home, this is a story of impossible dreams, monumental challenges, and profound faith. With self-belief and an innate ability to trust her instincts and stay focused, Dr Shroff inspires you to embrace your destiny and shape your own entrepreneurial journey through her earlier book.
The book "Baby Steps to Big Dreams" unveiled aims to share parenting conversations that will help parents see situations involving their children more empathetically and lovingly.
Edupreneur Dr. Manjula Pooja Shroff, MD & CEO of the Kalorex group, is a name synonymous with education in India. She has influenced the lives of more than 65,000 students over the past decades.
She reiterates her belief that children are the core of our existence, a source of unlimited joy, and the reason we want to excel in all aspects of our lives. As an educationist, she has had the opportunity to understand and nurture students and recognise the transformative power of love in their lives. Through "Baby Steps to Big Dreams – Essential Conversations for Modern Parents", she aims to share parenting conversations that will help parents see situations involving their children differently, empathetically, and lovingly. The book delves into deep-rooted concerns and challenges and offers holistic insights into the comprehensive development of children.
"Parenting is a joyful process that should be cherished. The book "Baby Steps to Big Dreams" encompasses an array of topics that apply to different age groups. It recognises that children's behaviour aligns with their developmental stages and presents a wide range of perspectives and experiences. The book will equip parents, caregivers, guardians and teachers with the processes and methods to achieve what they all strive for and that is to protect the children's childhood and help them grow into confident adults. It will help parents raise children with a balanced blend of indulgence and strictness, love and guidance, reasoning, and conversation," Dr. Shroff said.
Baby Steps to Big Dreams was launched at Mauritius on August 23 by Mauritian President Prithvirajsing Roopun, Mauritian vice Prime Minister and Minister of Tertiary Education Leela Devi Dookun-Luchoomun, and Minister of Financial Services and Good Governance MK Seeruttun, in the presence of other eminent dignitaries from industry, academia, book lovers, and more.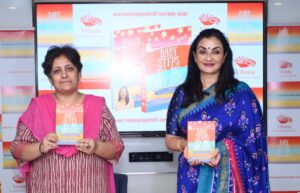 Baby Steps to Big Dreams is available on Amazon, other leading e-commerce platforms, and top bookstores across the country. 
Dr Shroff is driven by a passion for excellence; she has dedicated her entire life to the empowerment of students and the advancement of education. She is an Executive Alumni of Indian Institute of Management (IIM) & London School of Economics (LSE). A regular columnist, vlogger & life coach, she has been honoured with several awards.
Happy reading the book which is soon being published in its Hindi version.
(Rafat Quadri can be contacted at editorbilkul@gmail.com)