Nurturing Bonds: Adani Vidya Mandir Students Celebrate Teachers' Day with Joy and Gratitude
Teachers and Students Embrace Role Reversal for a Truly Unique Experience
BILKULONLINE
Ahmedabad, Sept 5: The pivotal role played by teachers in shaping the personal growth of children extends to have a more extensive influence on a nation's economic advancement. Particularly exceptional are those who willingly undertake the task of educating the often overlooked demographic – children from underprivileged backgrounds. A dedicated cohort of such educators serves at the Adani Vidya Mandir School in Ahmedabad, Gujarat and they were recently honoured by appreciative students on the occasion of Teacher's Day, 5th September, 2023. On the special occasion, about 43 teachers and 963 students decided to switch roles, creating a unique and enjoyable experience for everyone involved.
Instead of the traditional classroom dynamic where teachers instruct and students learn, they decided to reverse this dynamic. Teachers took on the roles of students, sitting in desks, listening to their students' presentations, and participating in activities as if they were the ones being educated. Meanwhile, students assumed the role of teachers, taking charge of the classroom, delivering lessons, and guiding their teachers through the day's curriculum.
Adani Vidya Mandir schools offer a comprehensive and cost-free education package, which includes high-quality schooling, free transportation, uniforms, books, and nourishing meals to deserving students from economically disadvantaged backgrounds. These institutions boast modern infrastructure and amenities and are presently located in Ahmedabad and Bhadreshwar in Gujarat, Surguja in Chhattisgarh and Krishnapatnam in Andhra Pradesh.
 "Education serves as a powerful force, enabling individuals to surmount socio-economic obstacles and arming them with the means to not only enhance their own circumstances but also make constructive contributions to their families, communities, society, and the entire nation. This dedication to education goes beyond the mere transmission of knowledge; it encompasses the cultivation of personal development, the nurturing of creativity, and the instilling of the self-assurance needed to navigate life's hurdles. By means of education, we forge a path towards a more inclusive and prosperous society, fueled by the capacity of each person to effect positive change," said Dr. Shilpa Indoria, Principal at Adani Vidya Mandir School, Ahmedabad.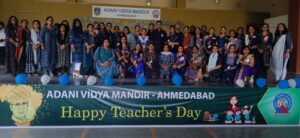 The students at Adani Vidya Mandir (AVM) schools have achieved remarkable milestones: Flying Cadet Sergeant (SGT) Khevna Parmar, from No. 2 Gujarat Air Squadron NCC, Ahmedabad, stands out as the sole girl cadet from the Air Wing, Junior Division, to represent Gujarat in the 2022 Republic Day parade. Coming from a financially challenged family, Khevna began her educational journey at Adani Vidya Mandir, Ahmedabad (AVMA) in Class IV. With unwavering determination and dedication, she excelled both in academics and co-curricular activities. Currently in Class IX, she has transformed into a resolute young woman.
Brijesh, who initially faced disciplinary challenges at school, has shown the incredible transformation that can be sparked by one's alma mater. He achieved a top rank in the National Eligibility Entrance Test (NEET) 2022.
A total of 18 students from AVMA, comprising both Class 9 and 11, were awarded the PM YASASVI Scholarship in 2022. The Young Achievers Scholarship Award Scheme for Vibrant India (YASASVI) extends scholarships to students belonging to Other Backward Classes (OBCs), Economically Backward Classes (EBCs), and Denotified Tribes (DNTs) whose annual family income is below INR 2.5 lakh. Selection for this scholarship is based on the YASASVI ENTRANCE TEST (YET), an annual examination conducted by the National Testing Agency (NTA). Under this program, Class 9 students will receive an annual scholarship of INR 75,000, while Class 11 students will be granted INR 1,25,000 annually.