Public Subscription of RR Kabel IPO price band at Rs 983-1,035 per share, to open on 13 and close on 15 Sept
Anchor book will be opened for a day on September 12
BILKULONLINE
By Rafat Quadri
Ahmedabad, Sept 9: Electrical wire is used for power distribution to transmit electricity from a transformer or other source to an outlet, appliance, device, cable, switch, distribution board, socket, and light fitting.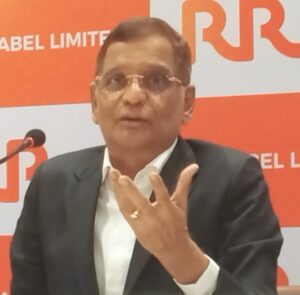 Interestingly this small item has given birth and growth to the success story of RR Kabel. Shreegopal Kabra MD RR Kabel Ltd explains it as "The journey began close to 30 years ago and today we are one of India's largest conglomerates in the electrical sector. Spread across multiple business verticals including Wires & Cables, Switches, Fans, Lighting, Switchgears & Appliances, we continue to endeavor to create top-quality products using futuristic advances in design and engineering. We offer an extensive range of products used for residential, commercial, industrial, and infrastructure purposes".
Shreegopal has more to share as he announces about the IPO of his company before the media at Ahmedabad on Saturday. He said" Innovation is our passion, Trust our core value, Transparency our promise and Quality we deliver by default.

"The word Kabel comes from what the cable is called in German where the company exports from initial years of exporting its products which are today being exported to 63 countries including USA, Europe, UK, UAE and several countries".
 The RR in his company's name stands for Reliable – Resources, Respectable -Relations. Since the value system and business motive according to Shreegopal is always to earn with honesty, integrity and considering good of others who are associated with you and the society at large.
Hence besides meaningful CSR activities the company has initiated unique activity of connecting thousands of registered electricians with them and trains and assist them with their requirements to live a decent life as skilled workers.
Research & Development (R&D) has been a core strength to the company since they adhere to the standards of developed and modern countries as they supply their items.
Company has a large dealer work with whom there is a long and strong relation of the company.
On this occasion, company CFO Rajesh Jain explained the IPO details with regards to company performance and value systems. While, Parin Savla of Axis Capital Ltd explained the media why they agreed to associate with the RR Kabel Company in the journey of IPO process.
RR Kabel IPO:
The initial public offering (IPO) of consumer electrical product maker RR Kabel is set to open for public subscription on September 13. The IPO will close on September 15, while the anchor book will be opened for a day on September 12. RR Kabel IPO price band has been fixed at ₹983-1,035 per share.
RR Kabel proposes to utilise the net proceeds towards funding of repayment or prepayment, in full or in part, of borrowings availed by the company from banks and financial institutions estimated to be around Rs 170 crore.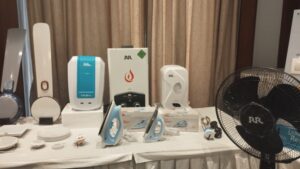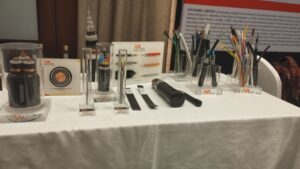 RR Kabel sells products across two broad segments wires and cables including house wires, industrial wires, power cables, and special cables; and FMEG including fans, lighting, switches, and appliances. In the nine months ended December 31, 2022, 73% of our revenue from operations from their wires and cables segment and 95% of our revenue from operations from their FMEG segment, are from the B2C channel. Our product's end use determines whether the sale is through a business-to-business (B2B) or B2C channel. According to Technopak, B2C sales provide higher gross margins as compared to B2B sales.
They undertake the manufacturing, marketing, and sale of our wires and cable products under our 'RR Kabel' brand, and a variety of consumer electrical products, including fans and lights under the 'RR' brand. They also manufacture, market, and sell fans and lights under the 'Luminous Fans and Lights' brand. Their 'RR Kabel' brand has over 20 years of operating history, while the 'RR' and the 'Luminous Fans and Lights' brands, which are licensed by them,  over 7 years and over 10 years of operating history, respectively.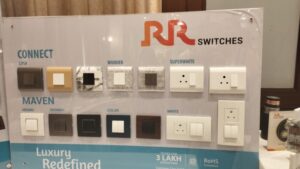 The Company hase received several awards for our brand including Best Brand in Building Material and Fittings category at the ET Infra Focus Summit and Awards 2022; Marketing Campaign of the Year 2018 award by ABP News Brand Excellence Award, and Power Brand India 2017 in "Industry Trendsetter" category. They also won the Pride of India Brands Award, in 2022.
R R Kabel Limited is one of the leading companies in the Indian consumer electrical industry (comprising wires and cables and fast moving electrical company. R R Kabel the fastest growing consumer electrical company among its peers in India, growing at a CAGR of 43.4%. 
The company sells products across two broad segment:
Wires and cables including house wires, industrial wires, power cables and special cables.

FMEG including fans, lighting, switches and appliances.
Investors can bid for a minimum of 14 equity shares and in multiples of 14 equity shares thereafter. RR Kabel, a part of RR Global Group, posted a net profit of Rs 214 crore and revenue of Rs 4,386 crore in 2021-22.
Axis Capital Ltd, Citigroup Global Markets India Pvt Ltd, HSBC Securities and Capital Markets (India) Pvt Ltd and J M Financial Ltd are the book-running lead managers to the issue. The equity shares of the company will be listed on the BSE and the NSE.
Note: Investors must read all the details of the company from official sources before investing in any company.
(Rafat Quadri can be contacted at editorbilkul@gmail.com)