"The unwavering confidence to develop technologies and do things on our own is the turning point of the Indian S&T sector" – Dr Shekhar Mande
 Appropriate applications of S&T on the ground has enabled India to turn the impossible into possible as well as show a new way to the world : Dr Shekhar C Mande
BILKULONLINE
Gandhinagar, Sept 13: Indian Institute of Technology Gandhinagar (IITGN), in partnership with the All India Council for Technical Education (AICTE), organised a Town Hall with Dr Shekhar C Mande, Distinguished Honorary Professor, IITGN, and former Director General of the Council of Scientific and Industrial Research (CSIR) and Secretary of the Department of Scientific and Industrial Research (DSIR), Government of India, on the theme – "Achievements of Science and Technology (S&T) in recent times" on September 11, 2023. The event was conducted under the "Amrit Kaal Vimarsh Vikasit Bharat @ 2047" series.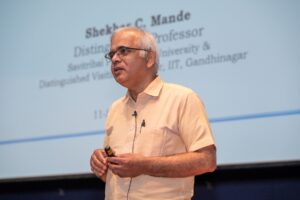 The Town Hall commenced with Dr Mande's insightful talk, followed by a detailed Q&A session. At the beginning of his talk, Dr Shekhar Mande enlightened the audience about the contributions of Indian scientists in India's freedom struggle, Sir Jagadish Chandra Bose and Sir Prafulla Chandra Ray. Furthermore, talking about India's significant strides in various scientific fields, the development of next generation technologies, and its recognition at a global scale, Dr Mande shared some of the most inspiring and lesser-known stories of our country's remarkable progress in Science and Technology (S&T).
Elucidating about applications of S&T in employment generation, Dr Mande gave the example of the 'Purple Revolution' in districts like Pulwama and Kupwara of Jammu & Kashmir through sustainable production of lavender and its oil, which is in great demand in the international market, by women self-help groups. Citing examples of 'Aatmnirbhar Bharat', Dr Mande shared how the country successfully developed dental implants; and for the first time, CSIR also started plantation of asafoetida (heeng) in the upper parts of the Himalayas about three years ago, especially in Ladakh, Lahaul and Spiti, to reduce its import dependence.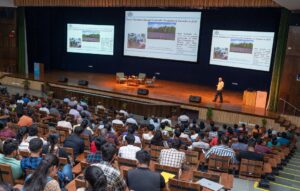 "Our country is making great progress in many lesser-known areas of S&T, which we should be proud of. For example, in the recently concluded G-20 summit, the nations agreed on a bio-fuel policy across the world, and India is already leading the pack because we had already become only the second country in the world to fly its first indigenously made bio-jet-fuel-powered military aircraft in 2019 to reduce our dependence on fossil fuels", said Dr  Mande.
Dr Mande informed that India also tops the list of countries that are making significant efforts and progress in meeting the Sustainable Development Goals (SDGs) 2015 for environmental protection. He gave the example of Nabrangpur in Orissa, one of the 100 aspirational districts, where various departments of the Ministry of Science & Technology came together to uplift the district by providing low-cost water filters for clean drinking water, training farmers in sustainable agriculture, teaching them how to make freshwater ponds and grow fish, explaining the significance of millets to improve health & nutrition, and so on. All these efforts, fueled by scientific and technological interventions, resulted in Nabrangpur rising from the bottom five to the top 10 aspirational districts of the country in just five years.
Describing the progress made by India in the last decade as unfolding of an unprecedented revolution of sorts, Dr Mande said, "Appropriate applications of S&T on the ground has enabled India to turn the impossible into possible as well as show a new way to the world. It is amazing to see how rapid progress we are making, and the current generation is undergoing an unprecedented transformation and witnessing some sort of a digital revolution unfolding in front of our eyes."
"The base that we have built up in S&T with the unwavering confidence that we are as good as anybody else in the world has helped our scientific community to rise up to different challenges at different points in time. Our determination to stand up to the global pharmaceuticals with our own medical products and the successful missions of Chandrayaan-3 and Aditya L-1, that the entire world took note of, are some of the manifestations of this confidence that we can develop technologies and do things on our own without dependence on any other country, and that is also the turning point of Indian S&T", he added.
Dr Mande also shared in detail how the strategic group, which he was also a part of, worked tirelessly during the evolving situation of COVID-19 to plan and monitor the mitigation, treatment and vaccination strategies meticulously; how India was the first to tell the world that COVID is an air-borne disease; how innovations like portable, cost-effective and faster Feluda paper strip testing kit (first in the world) and UV lamps to sanitise air through the AC ducts were indigenously developed in India (and it also now being used in every Vande Bharat train air-conditioning system); use of drone technology to deliver vaccines in remotest corners of the country; and how Made-in-India vaccines were made available to other countries as well keeping in mind the human-centric approach.
Sharing ideas on what more needs to be done in the Amrit Kaal of the next 25 years, Dr Mande said, "Our population, even the least educated person at the grassroots level, is extraordinarily innovative, and we need to find and take these innovations to the masses in a formal way to use them on a large scale. We also need to strengthen the innovation ecosystem and ensure that all the high-end research or the technology being developed in all our R&D organisations work closely with the industry to scale it up at a mass level. Lastly, we must identify problems and unmet needs of every section of society, whether a commoner, youth, children, industry, or entrepreneurs, and address them with S&T interventions and skill development. If we are able to do all these, I have no doubt that in 2047, India would stand as one the most advanced countries globally."
In a message for students in various areas of S&T towards the end of the Town Hall discussion, Dr Mande said, "You are living in such an exciting time and have so many opportunities lying ahead of you, and hence, you have a lot to contribute to the world at this stage. If you make informed choices for your career as per your own likings and apply S&T in all your endeavours very judiciously and keep the human-centric approach in mind, you will be able to do many things for the betterment of society."