IIT Gandhinagar launches e-Master's degree Programme in 'Energy Policy and Regulation'
Admissions open from January 2024
BILKULONLINE
Gandhinagar, Sept 15: Indian Institute of Technology Gandhinagar (IITGN) announces the launch of its first e-Master's degree programme in "Energy Policy and Regulation" (EPR) and opens the admission portal for the first batch starting from January 2024.
With rapid advancements in the energy and power sector, there is an increasing need to develop and implement a sound and robust regulatory framework in India to address broad societal concerns such as distributional equity and sustainable development. But regulatory policy still being a comparatively young discipline in the country, there is a dearth of upskilled regulatory professionals at all levels in spite of its utmost importance in the present time of energy transitions.
With an aim to bridge this gap, cater to skill development as per the evolving demands of the energy sector, and foster innovation, IITGN has launched this e-Master's degree programme for working professionals who wish to enhance their knowledge in emerging areas. Whether candidates work in regulatory commissions, electricity generation, transmission, distribution, energy trading, consumer services, renewable energy, market operations, adjudication, or consulting, this programme will provide them with the relevant skills and industry-focused knowledge from domain experts to thrive in their roles.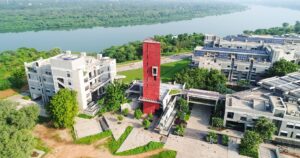 The two-year programme is designed with a flexible, executive-friendly structure to enable enrolled candidates to concurrently accommodate their work commitments. It will have live interactive sessions in the evenings and on weekends, assisted by self-paced learning modules for strategic learning and discussions. Working professionals and students with a Bachelor's or a Master's Degree in the relevant discipline (such as Engineering/Economics/Law/ Commerce/Management/Finance, etc.) can submit their applications online on the programme portal.
As per Prof Naran M Pindoriya, Associate Professor in the Department of Electrical Engineering and Programme Coordinator of the e-Master's in EPR at IITGN, "The well-designed modules of this e-Master's programme are focused on giving practical insights to working professionals through case studies to enrich their knowledge in relevant domains of power sector transformation and clean energy transition." 
Prof Anand Kumar, former Chairman of Gujarat & Meghalaya State Electricity Regulatory Commission (GERC & MSERC) and Professor in the Electrical Engineering at IITGN said, "Developing regulatory skills at all levels has become essential now in the light of fast-changing macro-economic policies and regulations in India. The meticulously developed curriculum of this e-Masters aims to address the skill development requirements essential for the energy and power segment. It will seamlessly integrate in-depth theoretical knowledge with extensive practical application to nurture expertise effectively."
Notably, the e-Master's programme does not have requirements of GATE qualification for admission or thesis requirement for graduation. On successful completion of this degree programme, the candidates will get IITGN Alumni status as well as mentorship and placement support from the Institute. During the programme, participants will also get the opportunity to meet the experts and visit the gateways of energy transitions during their 30 days of visits, spread over the two years, to the IITGN campus.