GIFT City welcomes University of Wollongong Australia into India
UOW and Tat Capital will offer two PhD scholarships focused on finance, as well as provide access to mentorships to nurture the next generation of fintech leaders

By July 2024 the UOW is expected to start its first batch of study at Gift city, faculty would comprise of India and Australia
Curriculum and ambience of the UOW would be at par with Australian standards
BILKULONLINE
By Rafat Quadri
Gandhinagar, Sept 19: Gift City Gandhinagar, in its efforts to get top notch Fintech companies, premium business institutes and administrative offices of high rank embraces world class university of Australia Wollongong into its fold.
At a formal function organised at Gift City Club, this announcement was made by the UOW authorities on Monday.
Interestingly, Gandhinagar is making headway to become one of the first foreign universities to have an International Branch Campus (IBC) in India. This milestone was marked by UOW's Global Brand Ambassador and renowned cricketer Adam Gilchrist as well as the University's Vice-Chancellor and President Professor Patricia M. Davidson.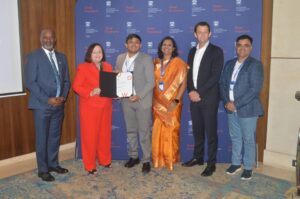 The Indian identity depicts the University's commitment to the country and is a stepping stone for setting up the UOW GIFT City teaching base, which is soon set to offer Australian degrees to Indians.
Gilchrist and other UOW officials earlier visited Jamnabai Narsee School in GIFT City, where the superstar Australian cricketer played a game of cricket with school students and presented them autographed cricket bats.
On the occasion of the UOW India identity unveiling, Professor Davidson announced the VC Leadership Scholarship India recipient. Seventeen-year-old Chaitanya Vishwajit Ambike from Bengaluru is the recipient of this year's scholarship and will be studying Bachelor of Mathematics Advanced at UOW, commencing in February 2024.
The University has a strong global presence, has been successfully operating campuses in Australia, Dubai, Malaysia and Hong Kong. It will commence its India operations in 2024 with a Graduate Certificate in Computing and a Masters in Computing (Data Analytics), followed by other undergraduate programs. UOW already has close ties with over 30 Indian universities for research and educational collaborations in the areas of software development, advanced medicine solutions, molecular and life sciences, advanced manufacturing, cybersecurity and mining technologies.
On this occasion, while interacting with the media, Professor Davidson said "We are extremely delighted to unveil UOW's India identity at GIFT City. India is an important partner for UOW, as we have extensive links with the country through our alumni networks, and government and industry partnerships. Drawing from our experience in international markets, we look forward to serving India's young population through our world-class education. We are excited for the future as we deepen our ties with India and its people while contributing to the growth of GIFT City," .
The University also announced the creation of the Tat Capital-UOW Global Finance Centre of Excellence, in association with Tat Capital, an Indian-Australian corporate advisory firm. This centre will operate from Australia and help assist in the development of the GIFT City financial markets through cutting-edge academic research.  It will provide infrastructure, including data and computing facilities, for Indian academics, as well as develop research infrastructure focused on India using data from the stock exchanges based in GIFT City, as well as super-computing facilities. UOW and Tat Capital will offer two PhD scholarships focused on finance, as well as provide access to mentorships to nurture the next generation of fintech leaders.
"Through the Tat Capital–UOW Global Finance Centre of Excellence, UOW and Tat Capital remain committed to providing opportunities that promote ethical and responsible fintech practices and produce world class research using high frequency data sourced from stock exchanges in GIFT City," said Ram Gorlamandala, Founder & CEO, Tat Capital.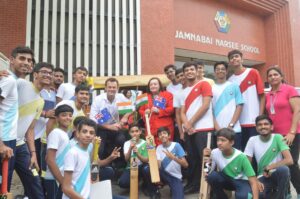 In May 2023, UOW received in-principle approval to establish an IBC in GIFT City after a roundtable meeting which included Professor Davidson and Indian Prime Minister  Narendra Modi. Providing high-quality education is one of the key goals of the University and the GIFT City operations will ensure accessibility and affordability for students. The University will set the student fees at 50 per cent of those incurred by international students studying at UOW's Australian campus.  This will be supplemented by merit scholarships to ensure bright and capable students can study at UOW GIFT City campus. The University's campus in GIFT City aims to contribute to the growth and mission of GIFT City and its businesses along with the local community.
UOW stands proudly among the top 1% of universities worldwide, which is a testament to the institution's commitment to world-class education and ground-breaking research. UOW has nine Australian campuses, a range of offshore campuses and teaching locations and more than 400 partners in 45 countries.
In UOW's 48-year history, it has seen over 180,000 graduates from almost 200 countries go out into the world and make their mark. With such an international footprint, the University's mission is bold and clear: to inspire a better future for everyone through education, research and partnership.
Tim Thomas, Chief Executive Officer of Centre for Australia India Relations was also present at the occasion. He explained the details of the UOW India campus prospects for Indian students and how it would benefit the industry and  students of the region in a big way.
The UOW at Gift City will be offering studies revolving fintech education, accountancy and management in its initial years along with research and mentorship. 
(Rafat Quadri can be reached at editorbilkul@gmail.com)