Tata Projects to construct Micron's advanced semiconductor facility in Sanand, Gujarat
Building the future with sustainable construction practices
BILKULONLINE
Ahmedabad, Sept 25: TATA Projects, a leading technologically led Indian EPC company, announces its collaboration with Micron Technology in a groundbreaking venture to construct an advanced semiconductor assembly and test plant in Sanand, Gujarat. The contract awarded to TATA Projects solidifies the company's proficiency in large-scale, sustainable infrastructure development in the Indian manufacturing landscape.
Situated in the Gujarat Industrial Development Corporation area of Chaarodi, Sanand, the project spans an expansive 93 acres of land. This enduring project is a significant milestone and the largest investment under the India Semiconductor Mission (ISM). The construction of Phase 1 will include a 500,000 square feet cleanroom space, scheduled to be operational by late 2024.
The project encompasses the design and construction of a first-of-its-kind DRAM and NAND assembly and test facility in India. Tata Projects aims to use modern construction methods and techniques involving integrated EPC delivery through 4D BIM and hybrid modular accelerated construction. A dedicated technological platform shall capture the aspects of Engineering, Procurement and Construction enabling predictable delivery, anticipate and mitigate risks.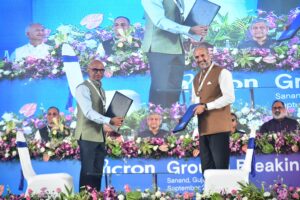 The Sanand Factory will be designed in accordance with LEED Gold Standards of the Green Building Council and will also integrate advanced water-saving technologies, enabling a Zero Liquid Discharge system, displaying the Tata Project's commitment to sustainable and responsible construction practices.
Speaking on this momentous collaboration,  Vinayak Pai, MD & CEO, Tata Projects, said, "We are thrilled to embark on this significant journey with Micron Technology, an industry leader in innovative memory and storage solutions. This collaboration exemplifies the unwavering commitment of Tata Projects to advancing technology, promoting sustainable development, and contributing considerably to 'Make in India' initiative. Through this classic venture, we are not just building a state-of-the-art semiconductor assembly and test plant; we are laying the foundation for India's technological prowess on the global stage."
"We're excited to break ground on Micron's new assembly and test facility here in GIDC, Sanand, Ahmedabad, India, and lead this transformation in India's semiconductor industry," said Micron's Senior Vice President of Global Assembly and Test Operations Gursharan Singh. "Micron selected Tata Projects to construct our new facility because of their strong track record of delivering high-quality projects on schedule, on budget, and with the highest safety and ethical standards."  
This collaboration with Micron Technology marks another significant milestone for Tata Projects, affirming the company's exceptional capabilities in executing transformative projects critical to the nation's progress and development. Together with Micron, Tata will shape the future and continue the legacy of excellence.