Sardar Vallabhbhai Patel International Airport Witnessed 35% Passenger Traffic growth.
BILKULONLINE
Ahmedabad, Sept 27: Sardar Vallabhbhai Patel International Airport (SVPIA) in Ahmedabad has continued its remarkable growth trajectory, witnessing a significant growth in passenger traffic with a 35% increase in passengers travelled till September 2023, compared to the same period in FY 2022 – 2023.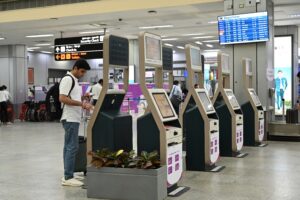 Till September 2023, SVPIA handled over 5 million passengers, representing a growth of 35% compared to the previous year, where the passenger count was 3.9 million. The airport recorded 28,969 domestic arrivals and departures (ATMs) and 5,193 international ATMs until last week.
Delhi, Mumbai, Bhopal, Kolkata, and Varanasi emerged as the top domestic and London (Gatwick), Doha, and Singapore being top international destinations for SVPIA during the year. Furthermore, SVPIA experienced significant growth in its international sectors, with Singapore, Ho Chi Minh City, Dubai, London, and Doha being some of the top-growing routes compared to the same period in 2022-23.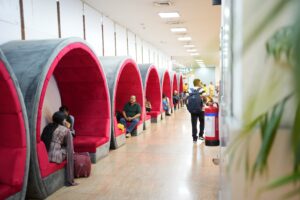 Ahmedabad Airport recently inaugurated a new immigration hall in the international terminal – T2 to ensure better services and facilities for international passengers. The new arrival hall has 24 immigration counters. Some of the other significant enhancements at the airport include the Arrival area in the Domestic Terminal – T1, which provides an additional baggage belt, dedicated pickup and drop-off zones, increased number of check-in counters in departure, a dedicated entry lane for Digi Yatra users, an extended Security check area, and new boarding gates at domestic departure.
SVPIA has experienced a remarkable 14% increase in cargo tonnage across its self-operated cargo terminals up until August 2023 compared to the previous year. The international Cargo Terminal – T3, which is operated by SVPIA, is also looking to enhance its capacity with the introduction of a large-sized X-ray machine to enable palletized cargo acceptance. T3 is now processing international couriers to various countries, including the USA, UK, Australia, and New Zealand, through custom-approved courier partner. SVPIA is even developing an Integrated Cargo Terminal (ICT), which will be one of its kind for Ahmedabad, offering world-class cargo handling infrastructure.
These passenger traffic and cargo numbers at SVPIA again demonstrate the airport's consistent growth and reflect the trust passengers and its business partners have placed in its services. SVPIA remains committed to providing seamless and world-class hospitality, connections across the nation, and a paramount focus on safety and security.