Nikon India launches the new mirrorless camera Nikon Z f at India International Photo Video Trade Fair 2023
Showcases the coveted range of z series mirrorless cameras along with lenses and accessories
BILKULONLINE
Gandhinagar, October 13:  Nikon India Private Limited, a 100% subsidiary of Nikon Corporation, an imaging technology leader, introduced the highly anticipated Nikon Z f in Gujarat today. Nikon India solidifies its mirrorless camera line-up with the launch of this hybrid camera that is set to redefine the art of videography as well as photography. To revolutionize the imaging landscape, the Nikon Z f comes equipped with a full-frame sensor, the EXPEED 7 image-processing engine and top tier specifications which are at par with Nikon mirrorless flagship products – the Nikon Z 9 and Z 8. 
Sajjan Kumar launched the Nikon Z f at the premier imaging exhibition, the India International Photo Video Trade Fair, which commenced today in Gandhinagar. The new product can be experienced at the Nikon Stall number A2, between 12th October'23 date to 14th October'23.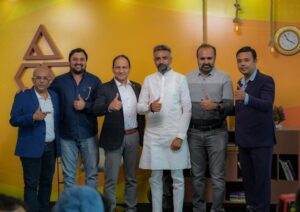 Commenting on their participation at the exhibition, Sajjan Kumar, Managing Director of Nikon India Pvt. Ltd. said, "We at Nikon India feel very elated to be part of India International Photo Video Trade Fair 2023. At the exhibition, we are ecstatic to launch our new mirrorless camera the Nikon Z f. The new camera is the latest addition to the full-frame Z family that offers versatile and innovative hybrid features. The Z f camera is designed keeping in mind the needs of wedding and fashion photographers. At the event will also be showcasing our complete range of Z mirrorless cameras and lenses and our patrons and enthusiasts will get an opportunity to get a hands-on experience of our complete range of product portfolio".
The company also provided its patrons the chance to experience the complete range of its cutting-edge imaging technology. Nikon's extraordinary camera lineup including the highly sought-after models such as Z 8, Z 9, Z 6II, Z 5, and Z 7II that are on display along with compatible lenses and accessories. These exceptional cameras solidify Nikon's commitments to innovation, precision, and delivering top-notch performance to photographers of all levels.
Nikon India has been strategically expanding the portfolio of Z mirrorless camera as well as lenses. With the launch of Nikon Z f, Nikon India also announced NIKKOR Z 600mm f/6.3 VR S, the newest S-Line super-telephoto prime lens in the NIKKOR Z S-Line series that is optimized to capture both stills and video in a compact design and is well compatible with Nikon Z f. Combined with its impressive focal length and S-Line optical performance, it is perfect for capturing subjects in wildlife, sports and action. Additionally, the brand introduced NIKKOR Z 135mm f/1.8 S Plena, the latest compact body NIKKOR Z S-Line series lens that embodies amazing visual experience, high reliability, and exceptional optical performance.
Availability
The Nikon Z f camera body will be available from 12th October 2023 at INR 1,76,995.00/- across India at Nikon outlets.
For more information on the new Z f and other Nikon products, please visit http://nikn.ly/Zseries_IN