Wardwizard Leads the Charge in Advancing the Development of the Electric Vehicle Ancillary Cluster
Signs Rs. 2,000 Crore MOU with Gujarat Government for Electric Vehicle Advancement
Targets to Generate More Than 5,000 Employment Opportunities as a Part of EV Ancillary Cluster
BILKULONLINE
Vadodara, Oct 26: Wardwizard Innovations & Mobility Ltd., a leading manufacturer of electric vehicles under the 'Joy e-bike' brand in India, signed a Memorandum of Understanding (MOU) with the Government of Gujarat to invest Rs. 2,000 crores in the development of an Electric Vehicle Ancillary Cluster by 2024. This agreement is geared towards fostering the growth of the electric vehicle industry and aligning with the government's vision of enhancing green mobility within the state.
The signing of the MOU with the Gujarat Government was a significant event held as part of the Vibrant Gujarat Global Summit 2024 in Gandhinagar. This pivotal agreement was signed by  S.J. Haider, Additional Chief Secretary of the Industries and Mines Department, and  Yatin Sanjay Gupte, Chairman and Managing Director of Wardwizard Innovations & Mobility Limited. The presence of several senior government dignitaries and company officials added to the ceremony's significance, underscoring the importance of this collaboration in the field of electric mobility.
Under this agreement, Wardwizard is set to make a substantial investment of Rs. 2,000 crores, spanning various critical areas. This includes research and development of electric 2 & 3 wheelers, the establishment of motor assembly at Vadodara's facility, Li-ion Cell production, and the development of ancillaries for raw material manufacturing. Furthermore, this initiative is expected to generate over 5,000 employment opportunities within the state, making a profound impact on both the electric mobility sector and the regional job market.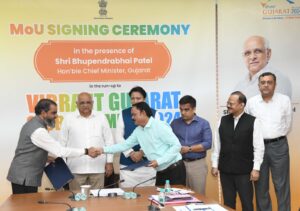 Elaborating on the MOU, Yatin Sanjay Gupte, Chairman & Managing Director, Wardwizard Innovations & Mobility Ltd., said, "We extend our heartfelt gratitude to the Government of Gujarat for their steadfast support. Our vision, aligned with the government's, drives this transformative partnership. This MOU solidifies our commitment to electric mobility and the 'Make-in-India' initiative. With a significant Rs. 2,000 crore investment, we fortify the local ecosystem, generating 5,000 employment opportunities, and driving a greener, self-reliant India. This investment is pivotal for 'Make-in-India,' easing supply chain pressures, and curbing import dependencies, as we prepare to manufacture Lithium-Ion Cells, Motor Controller, Chargers in-house while also investing in technology and innovation, expanding our research and development efforts, and growing our marketing initiatives."
The MOU between Wardwizard Innovations & Mobility Ltd. and the Government of Gujarat marks the dawn of a new era in innovation and sustainability within the electric vehicle industry. With a strong emphasis on 'Make-in-India' and a dedication to green mobility, this collaboration signifies a significant stride toward a brighter, more self-reliant future. As the electric vehicle landscape continues to evolve, this partnership stands as a pivotal development in shaping a greener and more self-sufficient India, benefiting both the industry and the nation.