TTF Ahmedabad is leading the revival of travel & tourism in the Western Region
Tourism Industry is anxiously welcoming all domestic tourists of India
Time to move out to places of your country and revive your happiness, distress and contribute to the economy
TTF is back at Gujarat University Exhibition Hall, signaling the restart of the wheels of the tourism industry 
BILKULONLINE
Ahmedabad, March 5: India has begun 2021 on a great note – its COVID19 vaccination drive is underway and travel confidence is coming back. In fact, India witnessed the highest number of check-ins since December 2020 in the last week of February1. Air travel has exceeded 85% of its pre-covid levels2. There is already a strong revival of demand for domestic leisure travel and hotel bookings have revived to three-fourth (75%) of its pre-covid levels3.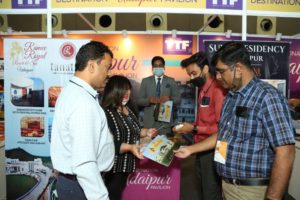 While international travel may restart in a major way later in the year4, business travel within India has also recovered almost half-way (50%) and is soon likely to reach the levels of the previous year, according to leading travel agents.
At such an important juncture, TTF Ahmedabad is pioneering the revival of travel and tourism in the vast and lucrative market of Gujarat on 4th, 5th and 6th March at the Gujarat University Exhibition Hall.
The show was inaugurated by Sanjiv Agarwal, Chairman & CEO, Fairfest Media Ltd along with stalwarts from the travel trade as well as state tourism board officials.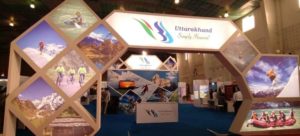 Rajasthan Tourism hosted a destination presentation at the venue today, for the travel trade and media, which was followed by high tea.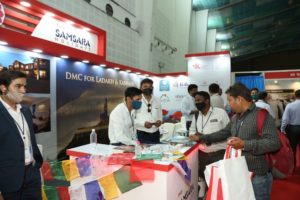 Over 130 exhibitors from 5 countries and 13 states are being represented at the show. Gujarat Tourism is participating in a big way as the Host State and its famous attraction, The Statue of Unity has joined as the Partner Destination. Uttarakhand, Kerala, Himachal and Rajasthan have come on board as the Partner States. This year's Feature State is Telangana. As always, India Tourism too has a significant presence in the show.
The show is actively supported by many national and regional travel trade associations including  OTOAI, ATOAI, TAAI, ADTOI, IATO, IAAI, ETAA, SATA, RAAG, SGTCA, TAAS, ATAA, GTAA, TAG, UTEN, VTAA, TAFI, TLC, TOSG, ABTO and TOA whose members will be attending in large numbers.
"We are extremely happy to report that the confidence in domestic travel is growing by leaps and bounds", said Sanjiv Agarwal, Chairman & CEO, Fairfest Media, the organisers of TTF – the oldest and largest travel tradeshow network in India. "This is the reason we launched a special series of shows in Kolkata, Ahmedabad and Mumbai in Feb-Mar this year, to assemble pioneers in reopening travel destinations, to market in the top three markets in India."
Key private players from DMCs, hotels, airlines and other sectors have also joined with enthusiasm. TTF Ahmedabad has Indonesia, Maldives, Mauritius and the USA represented through private agencies as well.
Featured Exhibitors at the show include The Zuri White Sands Goa Resort & Casino, Evolve Back Resorts, Kara Water, Lords Hotels & Resorts, Trulyy India Hotels & Resorts, Chutney Hotels, Swapna Srushti International Club, Hotelbox, Asianext Travelworld, Travelplug.in, Sanobar Hotels, Samode Hotels, Bodhi Boutique Hotel Kumbhalgarh, Bhairavgarh Resorts & Spa, Special Holidays, Vythiri Village, Neonz Resort & Club, Maruti Nandan Resort & Spa, Travelurze, Ramee Royal Resort & Spa, Mountain Trails, Easy to Travel, The Bayan Hotels & Resorts, Classic Travel Shoppe, Spiceland Holidays, Valley View Resorts & Spa by Traavista, Bamboo SAA Resort & Spa, Oriental Palace Resorts, Suvin Residency, Ayaan Resort & Spa, Akshay Niwas, Hotel Wonder Cliff and others. 
All three days of TTF Ahmedabad will be reserved for B2B interactions between the exhibitors and the travel trade from Ahmedabad and the whole of Gujarat, especially Surat, Rajkot and Vadodara. 
The show comes at a strategic time when India's travel and tourism industry is showing green shoots of recovery and will provide the much-needed boost to kickstart travel in Western India. TTF Ahmedabad will be followed by the grand finale, OTM Mumbai on 19, 20, 21 March at the Bombay Exhibition Centre.
Ajay Sharma,  Deputy Director, Department of Tourism, Rajasthan said "We have unveiled New Tourism Policy in Rajasthan in August 2020. Our GDP's almost 15% contribution is from Tourism sector and we are very serious and sincere about it. I am glad we have started receiving domestic tourists from West Bengal and Gujarat besides other places of India, even as the foreign tourists are still not there due to the pandemic situation. We are confident that Rajasthan will receive large number of tourists in the following months."
The organisers are ensuring that all Covid-related safety protocols and measures will be followed at TTF Ahmedabad by exhibitors, visitors, venue owners and service providers, to ensure a safe and beneficial experience for all.
TTF Ahmedabad is gearing up to make 2021 the Year of Reviving Travel. Are you ready to join the journey? Save the dates for TTF Ahmedabad on 4th, 5th and 6th March at the Gujarat University Exhibition Hall.