RAdm Anil Jaggi assumes charge as Flag Officer Commanding Gujarat Naval Area
BILKULONLINE
Ahmedabad, Aug 2: RAdm Anil Jaggi assumed the charge as Flag Officer Commanding Gujarat Naval Area (FOGNA) from RAdm Sameer Saxena, at a ceremonial parade held at Porbandar on 1st August, Tuesday.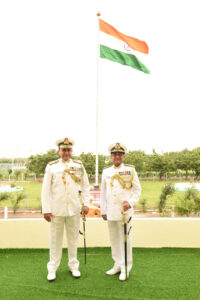 The Officer was commissioned into the Indian Navy on 01 Jan 1993 from the prestigious Naval Academy, Mandovi (Goa). He is a specialist in Navigation & Direction and a graduate of DSSC, wellington with Instructor grading.
He has also undertaken courses from NHCC at NWC Goa and United Nations Observer Course from Sweden. Prior to taking over as FOGNA RAdm Anil Jaggi  was appointed as Cmde (Foreign Cooperation) at IHQ MoD (N). His afloat appointments include Command of missile vessel INS Veer, Executive Officer of frigate INS Tabar & Command of stealth frigate INS Sahyadri.
His staff appointments include Joint Dir at Dte of Naval Planning (DNP), Instructor at DSSC, Wellington, Dir at DNP (Acquisition Planning) and Naval Advisor at London (UK).