MET City becomes One of India's largest IGBC PLATINUM RATED Greenfield Smart City, with Highest Score
BILKULONLINE
Gurugram-Ahmedabad, Aug 31: Model Economic Township, Haryana has recently been awarded the GREEN CITIES 'PLATINUM' Certification for 'Green Master planning & design and Green Policy initiatives' by The Confederation of Indian Industry's Indian Green Building Council (IGBC). METL has scored the highest points under IGBC Green Cities Rating for Greenfield Cities and achieved the Platinum rating. This rating makes MET City one of the largest platinum rated township in India.
As part of the rating system, Indian Green Building Council recognized several initiatives adopted by MET City in the project which includes 36% mixed-use development, compact city development, 17% public green & open spaces, 55% affordable housing component as part of housing development, 100% road network with streetscape and policy to encourage green buildings in the city.
As part of the project MET City has strategically planned to achieve high energy efficiency through ECBC mandate for buildings, 100% LED street lighting based on NB-IoT and 31% solar energy component, 2 GIS based (compact type) sub-stations saving 90% of the land area. The city has also embraced water management through 100% rainwater harvesting mandated for buildings, 30% reduction in potable water and treatment & reuse of 100% wastewater. Considering the National importance of solid waste management, METL has planned for 60% waste recycling and less than 5% waste to landfill.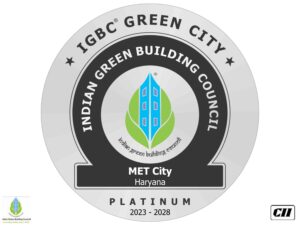 Shrivallabh Goyal, CEO & WTD of MET City, said, "IGBC Platinum is one of the major milestones achieved by MET City in its journey of sustainable development. I am delighted to share that MET City achieved highest points in the category, which clearly shows our focus towards green initiatives. We are creating a greenfield Smart city with sustainable mobility, ample supply of power and water, environmental monitoring, maximizing the use of renewable resources, Integrated command and control center to ensure safety of the city as few highlights. At present 31% of MET's present energy demand is met through Solar PV System, 100% wastewater treatment, waste management, GIS based substation is benefitting over 450 companies, over 30,000 employees and more than 2000 residential plots of MET City." 
He further added, "Our vision is to make MET City as India's fastest growing business destination of North India with sustainable urban development."