Rashtriya Raksha University Celebrates 3rd Foundation Day
 Blood Donation Camp and Thalassemia Screening Test conducted to mark the occasion
BILKULONLINE
Gandhinagar, Oct 4: RRU (Rashtriya Raksha University) and the Red Cross Society joined hands to organize a remarkable Blood Donation Camp and Thalassemia free screening test. This event was held in commemoration of RRU's 3rd Establishment Day, which took place on October 1, 2023. The event aimed to raise awareness about the importance of blood donation and provide support to individuals affected by Thalassemia.
The Foundation Day celebration marked another milestone in RRU's journey towards excellence in education and research in the field of national security. Over the past three years, RRU has emerged as a leading institution in providing specialized training and knowledge to professionals in defence and security domains.
The distinguished presence of Dr. Shishir Kumar Gupta, Registrar; Dr. Dharmeshkumar Prajapati, Assistant Registrar; and Dr. Priyanka Sharma, Dean (Extension), from Rashtriya Raksha University added prestige to the occasion. Additionally, Dr. Kalyani Trivedi, Chief Coordinator of Blood Donation Activity at the Indian Red Cross Society, Dr. Ridhdhi Nanda, Nutrition Consultant, and Dr. Viral Joshi from the Indian Red Cross Society were also present during the inauguration.
The Blood Donation Camp and Thalassemia Screening Test were initiatives aimed at promoting the noble cause of saving lives through blood donation while ensuring the health and well-being of donors. It provided an opportunity for students, faculty, and staff members to contribute towards this humanitarian effort.
During the camp, trained medical professionals from the Red Cross Society, Ahmedabad, collected blood donations from willing participants. All donated blood underwent a Thalassemia-free screening test to ensure its suitability for transfusion. This step is crucial in preventing the transmission of Thalassemia, a genetic blood disorder that affects millions worldwide.
The event witnessed an overwhelming response from RRU students, faculty, and staff members. A total of 68 units of blood were generously donated by RRU to the Red Cross Society for their noble cause. These donations will undoubtedly have a significant impact on saving lives and supporting those in need.
In addition to the Blood Donation Camp, RRU also organized awareness lectures on various aspects related to blood donation, Thalassemia prevention, and overall health and well-being. Renowned experts from the medical and healthcare fields delivered these lectures, providing valuable insights and information to the participants.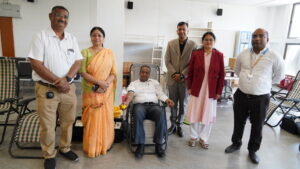 The collaboration between RRU and the Red Cross Society exemplifies their commitment to serving the community and promoting humanitarian causes. By organizing this event, both organizations have taken a significant step towards creating awareness about blood donation and Thalassemia prevention.
RRU and the Red Cross Society expressed their heartfelt gratitude to all the participants, donors, and volunteers who contributed to the success of this event. Their support and dedication have made a positive difference in the lives of many individuals.