Mutual endorsements of businesses to grow along is the mantra of 'Team On'
Kaun Banega Business Mein Crorepati !!
BILKULONLINE
Ahmedabad, Oct 11: Why would a businessman endorse or vouch for other's business? Well that is exactly what the team of 'Team On' is doing.
'Team On' is a unique concept conceived by  Kaushal Shah, an author and real estate businessman. It was formally floated on July 1 in 2017 and had some 125 members when Covid-19 happened. So it went under a resting mode to restart fully loaded and formally announced its re-start at  Hotel El Dorado, Navrangpura today. The 45 newly incorporated members had their first meeting today.
Coming from different business backgrounds, these businessmen, which also includes five fempreneurs are the growth engines of our economy and seem to believe in what Napoleon Hill had said "Strength and growth come only through continuous effort and struggle."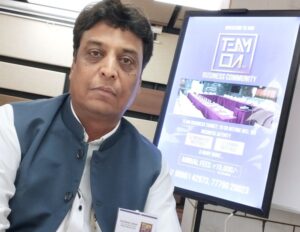 Speaking to BILKULONLINE, Kaushal Shah the founder of the concept 'Team On' said "Team On is back. Reloaded.. Focused and with Long Term Vision of Growth".
"Team On will connect successful business tycoons with the MSME entrepreneurs and has a hard core vision of achieving 10 Crore+ business targets for the Team On Players. This would be done by using 6 Sigma techniques of redefining the Mission and Vision Statements, Dream, Objectives and Goals and Long term vision of every entrepreneur and by motivating them to dream beyond and perform much beyond their current capabilities and abilities" added Shah.
The grand relaunch meeting function of 'Team On' saw the formation of the Core Committee  team comprising of comprising of  Piyush Makwana – Captain,  Sachin Bhatt – Vice Captain,  Nirav Shah – Secretary,  Pankin Parikh –Visitor Host, Daxesh Raaval – Branding and Sponsorship, Hinen Shah – Managing Committee,  Jay Patel – Managing Committee,  Samir Khandar – Managing Committee and Tejas Sathwara.
The members claim that they are  back in action with renewed focus, fresh positivity  and a commitment towards 10 Crore + hard core business achievement targets for its members.
Members are scheduled to meet every month twice once on breakfast and next meet on dinner. We will have one successful and inspiring businessman whose company has a Rs 100 crore+  turnover, who will address and preside at our second meeting of every month. He would rope in our members as his company's ambassadors, in the sense they would associate with business promotion and sales strategies and transactions through their own networking as influencers. In short, the idea of the group is to get benefitted through promoting other members' business using one's own network and contacts.
Fee of the membership in the group is fixed at Rs 15,000 annually which includes all expenses of meetings. Orientation of the applied members is carried out before they are absorbed as members.
"Trust being the most important factor of a business and our group, we want to have trustworthy and competent members who are themselves owning their own MSME format businesses" explains Shah. 
Explaining the future details and vision of the group Kaushal Shah reiterated that "We envision to have 'Team On's 8 (eight) chapters in Ahmedabad and would have a business of  Rs. 300 crore+ of our members by next year".
'Team On' is a community of businessmen. Presently there are Real Estate Developers, Chartered Accountants, Doctors, Media entrepreneur, Travel Agents and others  are its members. Soon the group aims to expand and make inroads through their influencing and enterprising skills. Hence, the slogan  "Kaun Banega Business mein Crorepati" they have coined resonates with their charged energy.