Sri Sri Ravi Shankar to inaugurate the Art of Living Gurukul at Vasad on his Diwali visit to Gujarat
Meeting with intellectuals and farmers – unfolding chemical free farming ideas and many more socially relevant projects on the card
BILKULONLINE
Ahmedabad, Nov 8: Spiritual leader and the founder of the Art of Living Organization Sri Sri Ravi Shankar will be gracing his presence in Gujarat this Diwali from 10th – 14th November, 2023. Having presence across 180 countries, the organisation has its international center in Bengaluru, India. The Art of Living foundation is at the forefront in many service projects all over the world.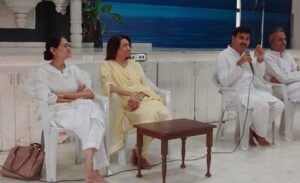 Owing to his mission of strengthening the roots of unity, peace and human values and his vision of One World Family – 'Vasudhaiva Kutumbakam', he travels across the world where gatherings are hosted and people from all walks of life participate in various discourses, knowledge sessions, satsang and also contribute to various service projects encompassing the social facets of the global community as a whole.
This Diwali will witness a host of events including Puja, Yagyas, Knowledge Discourses, Satsangs and many socially relevant issues will be discussed where people will seek inspiration and guidance from Gurudev at The Art of Living Gujarat Ashram, Vasad, Gujarat.
The five day stay of the spiritual leader is as follows:
10th November, 2023
Inauguration of Gurukul: In presence of Gurudev, the inauguration will happen for the Gurukul inside The Art of Living Gujarat Ashram, Vasad campus which will facilitate and impart the teaching of authentic vedic knowledge, jyotish, literature, mathematics, sanskrit and cultural genesis to kids for a study period of 8 years. The timings are 4.30 pm in the evening. Gurudev's deep insightful talks and commentary on Shrimad Bhagvad Gita, Ashtavakra Gita, Narada Bhakti Sutras, Vigyan Bhairav have always enlightened and inspired many seekers and students of knowledge on the path.

Dhanvantari Homa and Satsang: On auspicious day, the learned vedic pundits and students from Sri Sri Gurukulam will perform the vaidic chants and homa. This special homa will witness 108 different offerings of herbs that also have a highly positive environmental impact and which blesses the seeker with good health.
11th November, 2023
Farmers' Meet – 10 am: Continuing the movement of imparting techniques and inspiration of organic farming to 22 lakh+ farmers across the nation, this meet will be hosted for well-being and prosperity of farmers wherein they will be educated about the tremendous benefits of organic farming and will also be informed about methodical trainings initiated by Art of Living to help the Farmers learn the techniques.

Gyaan Ganga – 3:30 pm

: An intimate gathering of intellectuals who shall seek knowledge and discourse from Sri Sri Ravi Shankar encompassing various aspects of life and will explore thought leadership on topics of spirituality, ethics in business and sports, the ultimate aim of Yoga, and so on.
Gujarat Creators Meet – 5:00 pm: An exclusive gathering of Gujarati Social media influencers and creators with Sri Sri Ravi Shankar which will witness the amalgamation of spiritual fundamentals for the digital age. As Art of Living has always garnered praise for the inclination towards celebrating the diverse cultures of the world, with the recently hosted World Cultural Festival at Washington, DC, this event will mark a unique collaboration in the digital media forum
12th November, 2023
'Sant Parishad' – 10 am: On auspicious day of Diwali, a blissful gathering of saints from across Gujarat will happen in presence of Sri Sri Ravi Shankar in The Art of Living Gujarat Ashram, Vasad.

Sri Mahalakshmi Homa & Satsang: Sri Mahalakshmi Homa is performed to eliminate the aspect of poverty in one's life and to obtain the eight different types of wealth ('Ashtalakshmi'). This homa will be performed in presence of Sri Sri Ravi Shankar which is expected to draw a grand participation of devotees from across Gujarat as well as across India devotees will be joining online through webcast to attend this auspicious event.

​
13th November, 2023
Sri Sri Ravi Shankar will grace presence in the Satsang and will be meeting devotees and seekers in The Art of Living Gujarat Ashram, Vasad.
14th November, 2023
Sri Maha Ganapathi Homa – The beginnings of Gujarati New Year will embark through blissful and auspicious puja embracing Lord Ganesha with flowers, offerings and prayers inculcated with poetic ancient vedic chants being performed by the trained Vedic pundits from Sri Sri Gurukul in presence of Sri Sri Ravi Shankar.
Sri Sri Ravi Shankar is a humanitarian, spiritual leader and an ambassador of peace and human values. Through his life and work he has inspired millions around the world with a vision of a stress-free, violence-free world. He has designed programs that provide techniques and tools to live a deeper, more joyous life and has established non-profit organizations that recognize the human identity beyond the boundaries of gender, race, nationality, and religion.
Uday Krishna, Shailaja Didi, Dr Neelam Raval, Umesh Shah, Tushar Panchal and Jankhana Dave the senior trainers and educators at the Art of Living centres of Ahmedabad briefed the media earlier.