Shilp Group carves a niche for itself delivering 50 milestone projects to Ahmedabad in last 20 years
Shilp Developers – — a real estate company that is driven by quality, integrity and authenticity, has earned recognition as one of the top builders of Ahmedabad
BILKULONLINE
By Rafat Quadri
Ahmedabad, Nov 9: A name that commands respect and stands out for delivering quality and creativity in its creation in Ahmedabad's real estate landscape is SHILP Developers.
Building dreams, one brick at a time, delivering quality construction and timeless design Shilp Developers Group uses construction materials, such as steel beams or wooden planks, to create designs for people to reside and working places. This explains the slogan of Shilp Group "Unlocking your dreams of ownership while making strong relationship".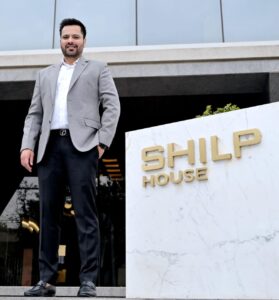 Yash Brahmbhatt is a self-made first generation entrepreneur and the proud founder & CEO of Shilp Group .He believes in the philosophy that "When we put relentless efforts with  perseverance, determination and resilience, we achieve results that we desire and deserve."
Shilp Group's claims match with the results when it transformed the 'dreams of ownership' of others into a reality. No wonder be it the iconic modern road of Sindhu Bhavan road or Gift City projects, Shilp has a niche over others.
Shilp Group has evolved significantly over the past two decades, with a focus on infrastructure development, urban expansion, and the growth of both residential and commercial real estate. 'Government initiatives, changing consumer preferences, and environmental considerations have also played a role in shaping the city's real estate market' says Yash.
This amazing journey which began with Shilp group in Year 2004 with a bold step by participating in a land auction conducted by the Ahmedabad Urban Development Authority (AUDA), is a testament to the power of vision, unwavering determination, and passionate commitment to excellence of  Yash Brahmbhatt. With that landmark decision, he acquired a modest piece of land and ignited the spark of his real estate dreams. From the very outset, Yash always aspired to make his mark in the real estate industry by creating unique structures that featured memorable elevations and intricate designs.
Today, under his leadership, Shilp Group is proudly celebrating the completion of an astounding 50 projects in just 20 years. These projects, totalling over 8,000 units and an impressive 16 million square feet of construction, encompasses both residential and commercial properties in Ahmedabad. Shilp Group isn't just about buildings; it's about crafting dreams and aspirations into reality. The company's diverse portfolio includes residential and commercial properties, weekend home plotting scheme, and industrial plotting scheme, catering to a wide spectrum of real estate needs.
Speaking to BILKULONLINE Yash explained that "Gone are the days when everything was made at the construction site itself. Off-site assembly and fabrication is an established trend now. Assembling of structural elements offsite has an edge over the on-site assembly. It saves time – the most significant asset in any construction project. Hence, now distances are not measured in kilometres but the time taken to reach there".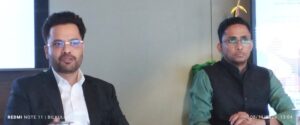 Current trends in the construction industry include improved collaboration, 3D printing, Building Information Modeling (BIM), an emphasis on green building and more. The future is now – and these innovations are proof of it. Matching the scale and overview of the modern concepts Shilp Group has embarked on the journey of constructing 'state of art' residential and commercial projects at Gift City, Gandhinagar- now a happening place.
As Shilp Group continues to reach new heights and mark its presence in the real estate industry, Yash Brahmbhatt's legacy as a visionary entrepreneur and builder remains an inspiration to all. His journey is a testament to what can be achieved when passion, vision, and determination converge on the path to success.
Under his able leadership, completion of 50 successful projects is just a number, and we are sure that with his guidance and vision, Shilp group would continue to build excellence and achieve more and more milestones in future. Yash with a renewed commitment says "At Shilp after having delivered 50 projects in various segments of the scale and requirement, we aim at completing 50 more projects   within next ten years thus making a century".
'SnehShilp Foundation' a social responsibility initiative of the Shilp Group  has been established with the sole purpose of empowering, strengthening and enabling people to live a life they truly deserve.
(Rafat Quadri can be contacted at editorbilkul@gmail.com)