Adani Sportsline's Sabarmati Riverfront Sports Park is Open for the public
May the Adani state of art Sports Complex be the beacon of inspiration for generations to come : Mithali Raj
The Adani Group recognises the transformative power of sports and is keen to nurture and
support the talent in the country : Pranav Adani
BILKULONLINE
By Rafat Quadri
Ahmedabad, Sept 2: One of the most iconic and memorable sights of Ahmedabad is the Sabarmati Riverfront – and now, sprucing that up further is the Adani Sportsline managed Sports Park, offering some of the best sporting infrastructure for the people of the city and state. The Sports Park hopes to inspire and bring out the best of talent from Gujarat, with the facilities designed to support and encourage the sporting culture and also a healthier and fitter lifestyle.
Mithali Raj (former captain of the India women's national cricket team from 2004 to 2022) graced the occasion. She said "It is a testimony to the unwavering commitment of the Adani Group towards sporting excellence and nurturing talent.  This sports complex is said to be a 'game changer' for athletes across various disciplines. By saying it in real sense, it is a project which goes much beyond bricks and mortar. This is a project which I feel is a representation of a vision. A vision to create thriving hub for sports activities, where dreams are nurtured, champions are born and I am sure in the coming years, records will be shattered".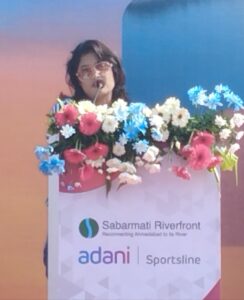 "The Adani Group's relentless pursuit for excellence can be seen or can be reflected every aspect of this complex. I am sure when we go through each and every facility you will all relate to it. To build something like this it is no small feat" she added.
Mithali said "I take this opportunity to express my deepest gratitude to the Adani family for their unwavering belief in the power of sports and commitment to uplifting sporting eco system in our country. To the young aspiring athletes who are sitting at the back, I sincerely urge you to cease this opportunity with both hands and am sure this complex is a canvass for you, how you use it to uncap the potential of the sport of your choice and make the best in it. The possibilities this complex holds are endless. In conclusion, May this Adani state of art complex be the beacon of inspiration for generations to come, nurturing champions and fostering a culture of sporting brilliance not only in Ahmedabad but in the country".
"I take this opportunity to express my deepest gratitude to the Adani family for their unwavering commitment towards the power of sports and commitment in uplifting sporting eco system of the country. May this Adani state of arts complex be the inspiration for centuries".
The Sports Park has jogging tracks, gymnasium, children's play areas, along with cricket pitches, pickleball, basketball, volleyball and tennis courts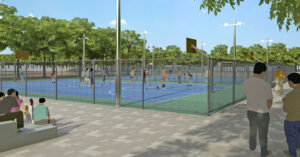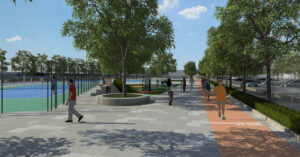 The Sports Park, for which Adani Sportsline won the rights after an intense bidding, was inaugurated today, on the 2nd of September, by Kiritbhai Parmar, Mayor, in the august presence of  Pranav Adani, Director, Adani Enterprises;  Mithali Raj, Former Captain, Indian Women Cricket;  Arunsinh Rajput, Whip Municipal Ruling Party;  Bhaskarbhai Bhatt, Leader Municipal Ruling Party;   Hitesh Barot, Chairman, St. Committee;  Kaushikbhai Jain, MLA;  Amitbhai P. Shah, MLA; Surendrabhai Patel, Chariman, SRFDCL Project; Dr. Kiritbhai Solanki, M.P.;  M. Thennarsan, Municipal Commissioner, Ahmedabad; Keshav Varma, IAS (Rtd.), Chairman, SRFDCL;  Gitaben Patel, Dy. Mayor; and  Rajeshkumar Dave, Chairman, Recreation Cultural and Heritage Committee.
The Sabarmati Riverfront Sports Park, which is open to one and all, houses designated jogging tracks, gymnasium and children's playing areas, apart from housing multiple cricket pitches, and courts for pickleball, basketball, volleyball and tennis. Also, skating rinks with skateboards will be available to visitors and learners. The Sports Park encourages widespread participation in sports by offering accessible opportunities for people of all ages and backgrounds through an option to book a slot and enjoy the game.
The Sports Park will have various academies that will help introduce kids, who are between the ages of 5 and 7, to a variety of sports. The youngsters will then be allowed to pick their preferred sports, with the decisions based on their abilities, interests and aptitude, and specifically designed scientific training methods, with a special focus on strength and conditioning. This process is designed to help discover sporting talent in the city and the state so that they can then be fast-tracked to more suitable programs for further development.
"The Sabarmati Riverfront Sports Park is a fantastic initiative, and it is great to see Adani Sportsline step in and take charge. Sometimes, in sport, in India, this bit of initiative is all that's lacking, as this helps ensure top class infrastructure for the next generations. I hope the cricket nets over here will help in harnessing talent which will represent India in the coming years," said Mithali Raj.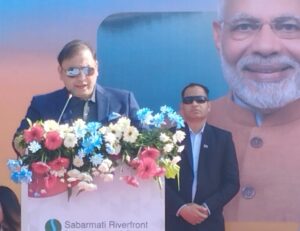 "The Sabarmati Riverfront is iconic and symbolises the city and people of Ahmedabad. We are extremely happy to be given this opportunity and will endeavour to take this sporting arena to greater heights. The state-of-the-art Sports Park will not only be well looked after but also it will look after our people in Ahmedabad, and hopefully, we will see the next sporting superstar come through the ranks from here. The Adani Group recognises the transformative power of sports and is keen to nurture and support the talent in the country, as we believe that by providing access to top-notch infrastructure, coaching, and training facilities, we can harness the immense potential of our youth," said Pranav Adani. 
(Rafat Quadri can be contacted at editorbilkul@gmail.com)